This section for REPORTS, BLOGS FORUMS
From Sky and Telescope Magazine Behind the black.com
From Astronomy Magazine it's Bob Berman's Blog site Sky Man Bob.com
From the denver science musuem David Grinspoon's site Funky science.net
An online blog From ABC Media network
Here is something different Destination space's Chat room
Click here for Portal to the Universe
And here for Universe Today.COM
A companion site to Universe today is Cosmoquest.org!
And another companion site Know the cosmos.com
Here is a Video Blog site ... Astrocast.tv!

A blog site Hubble site for the citizen to get involved
Another site is Hubbles Universe Unfiltered"
Yet another is Hubbles Deep Astronomy
Hubble site's Hubbles list of Blogs
A video Montage of Cherry spring State (PA) state park
A favorite for Northeastern ANd Mid Atlantic VIewers
---
REPORTS
Click here for Large Binocular Telescope"
And here for Technical report on the mini galaxy in Hercules
Click here for A report on redshifts and Halton ARP
Here is a report on Telescope Arms Race
Here is the National Science Foundation's Advancing Astronomy in the coming decade(2010-2019):Opportunities and Challenges
Here is the NSF's advisory committe's report: New Worlds , New Horizons in Astroonomy and AstroPhysics
---
The (a)Periodic Table of Messier Objects

In May 2013 I finished photographing (using an astronomical CCD camera and a refractor)

 all 110 Messier objects, a project that took about 11 months.

 I wanted to make a poster out of the 110 photos, and after a little thinking I realized that there

 is another famous collection of objects (which also number a little over 100) which are conventionally

 displayed in a chart divided into categories.  So with that in mind I attempted to create an arrangement

 of the Messier Objects inspired by the Periodic Table.  Below is the result.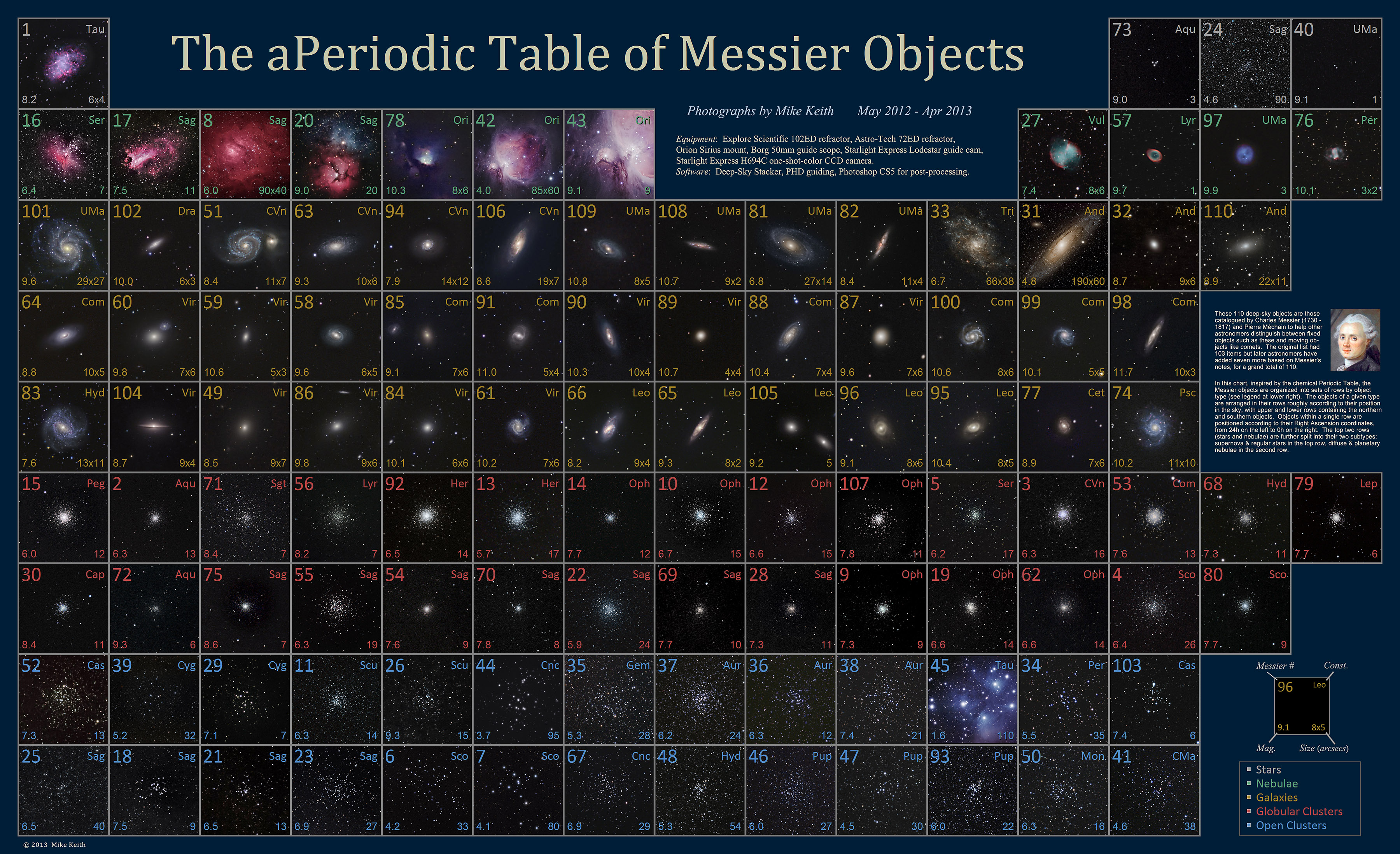 ---
FORUMS
---
And here is Cosmic Controversy.com
This one from Astronomy Magazine
This one from Astronomy daily.com
And from Astromart
Threads from Cloudy nights
Amatuer Astronomy From Phill Harrington.net
AND a personal blog Jonathan's Space Report
---
Here is Our Solar System the Sun and its Planets
from The North American Coalation for Maintaing Mother Earth

Star Should Have Gone Supernova, But it Imploded Into a Black Hole Instead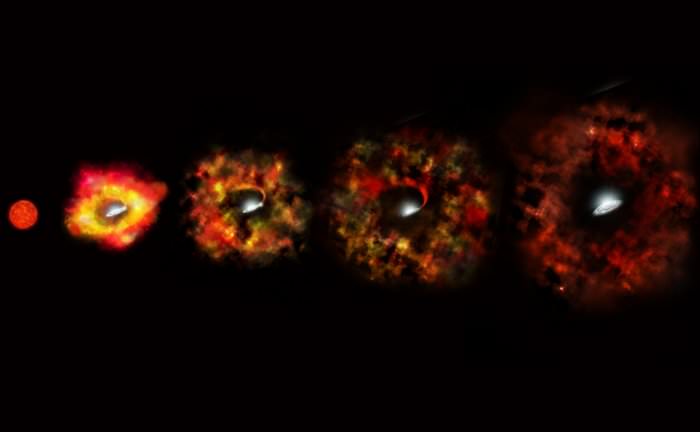 This illustration shows the final stages in the life of a supermassive star that fails to explode as a supernova,
 but instead implodes to form a black hole.
 Credit: NASA/ESA/P. Jeffries (STScI)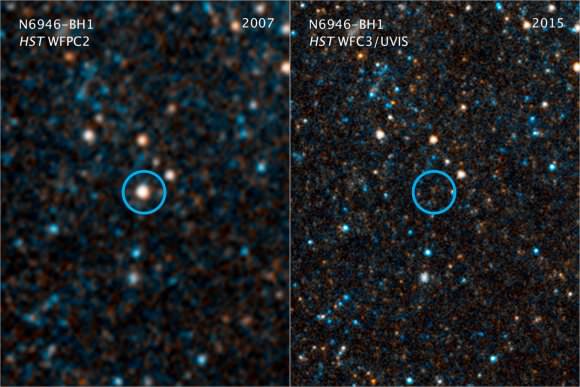 Visible-light and near-infrared photos from NASA's Hubble Space Telescope showing the giant star N6946-BH1
 before and after it vanished out of sight by imploding to form a black hole.
 Credit: NASA/ESA/C. Kochanek (OSU)


Simulated view of a black hole.
 Credit: Bronzwaer/Davelaar/Moscibrodzka/Falcke, Radboud University

Star Gives Birth to Possible Black Hole in Hubble and Spitzer Images

Published on May 25, 2017
A team of astronomers at The Ohio State University watched a star disappear and possibly become a black hole.
 Instead of becoming a black hole through the expected process of a supernova, the black hole candidate formed 
 through a "failed supernova." The team used NASA's Hubble and Spitzer Space Telescopes and the Large Binocular Telescope 
 to observe and monitor the star throughout the past decade. If confirmed, this would be the first time anyone has witnessed
 the birth of a black hole and the first discovery of a failed supernova.
Read more: 

Credit: NASA's Goddard Space Flight Center/Katrina Jackson
Music Credits: "High Heelz" by Donn Wilerson [BMI] and Lance Sumner [BMI]; Killer Tracks BMI; Killer Tracks Production Music
This video is public domain and along with other supporting visualizations can be downloaded from the 
 Scientific Visualization Studio at:

If you liked this video, :subscribe to the NASA Goddard YouTube channel

Or subscribe to  NASA's Goddard Shorts HD Podcast:

Follow NASA's Goddard Space Flight Center
 · Facebook:
 · Twitter
·  Flickr
 · Instagram
· Google+

    Category
        Science & Technology 
    License
        Standard YouTube License 



AMAZING NEW VIEWS OF BETELGEUSE COURTESY OF THE ALMA Observatory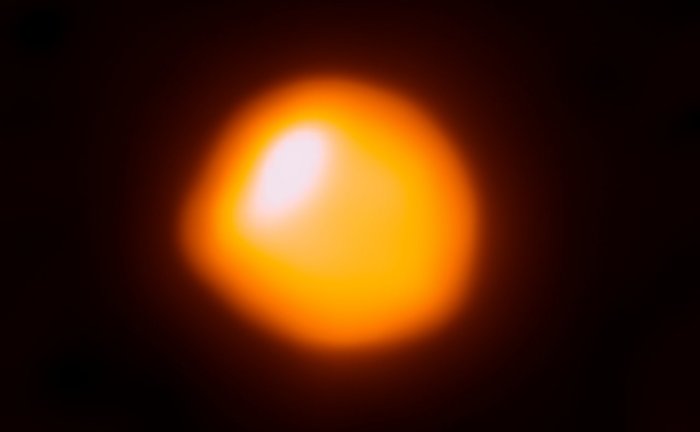 This orange blob shows the nearby star Betelgeuse, as seen by the Atacama Large Millimeter/submillimeter Array
CREDIT: (ALMA). ALMA/ESO/NRAO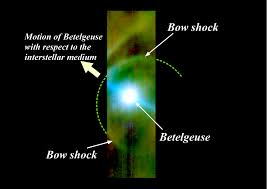 The bowshock created by Betelgeuse as it plows through the local interstellar medium.
CREDIT: JAXA/Akari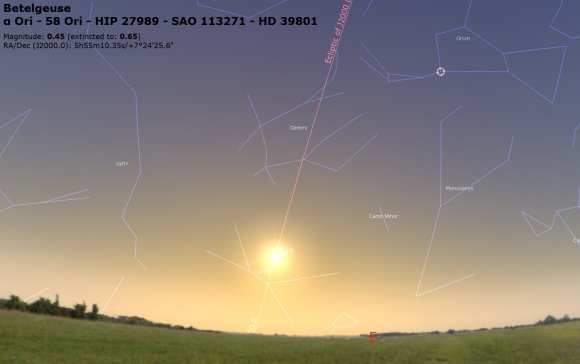 An early springtime supernova in the future?
Credit: Stellarium