Black Holes!
No Escape from the Inside of a Black Hole


No Escape: Dive Into a Black Hole (Infographic) by Karl Tate - When matter is compressed beyond a certain density,

 a black hole is created. It is called black because no light can escape from it. Some black holes are the tombstones 

 of what were once massive stars. An enormous black hole is thought to lurk at the center of the Milky Way galaxy.


18 BILLION SOLAR MASS BLACK HOLE ROTATES AT 1/3 SPEED OF LIGHT 13 Mar , 2016 by Bob King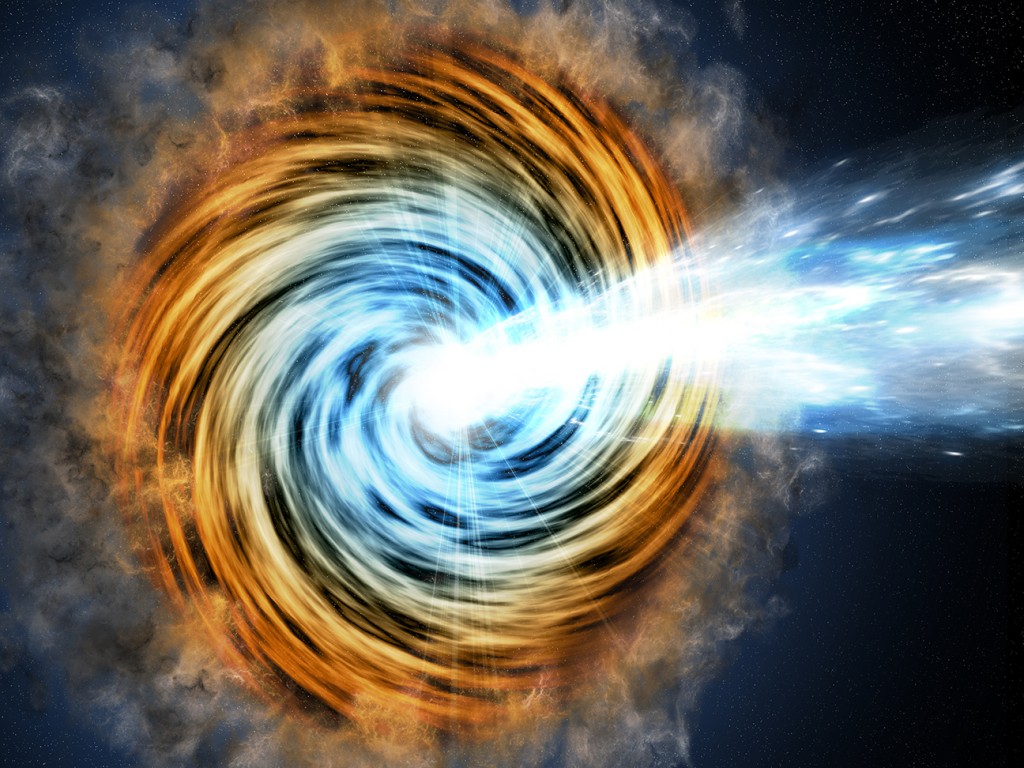 Artist's view of a black hole-powered blazar (a type of quasar) lighting up the center of a remote galaxy.

 As matter falls toward the supermassive black hole at the galaxy's center, some of it is accelerated outward at nearly

 the speed of light along jets pointed in opposite directions. When one of the jets happens to be aimed in the direction 

 of Earth, as illustrated here, the galaxy appears especially bright and is classified as a blazar.

Credits: M. Weiss/CfA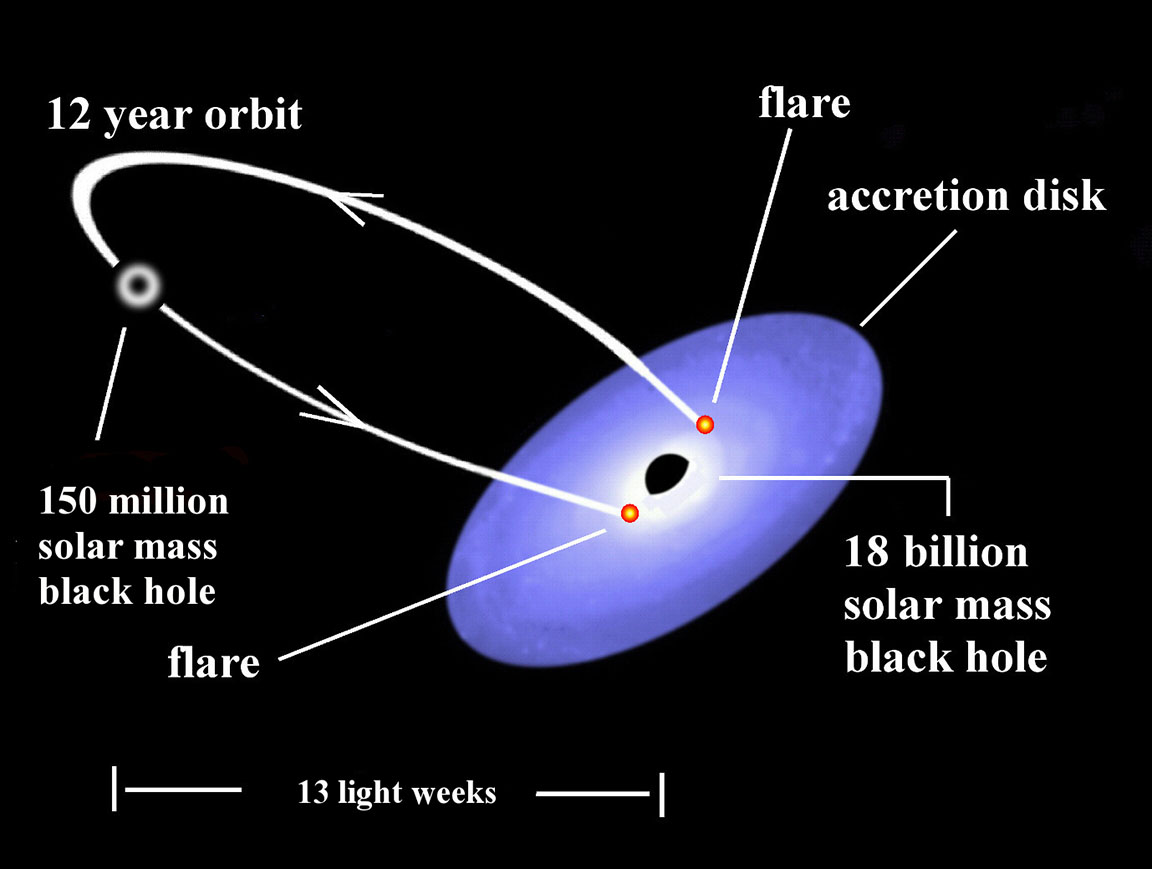 An illustration of the binary black hole system, OJ 287, showing the massive black hole surrounded by an accretion disk.

 A second, smaller black hole is believed to orbit the larger. When it intersects the larger's disk coming and going,

 astronomers see a pair of bright flares. The predictions of the model are verified by observations.

 Credit: University of Turku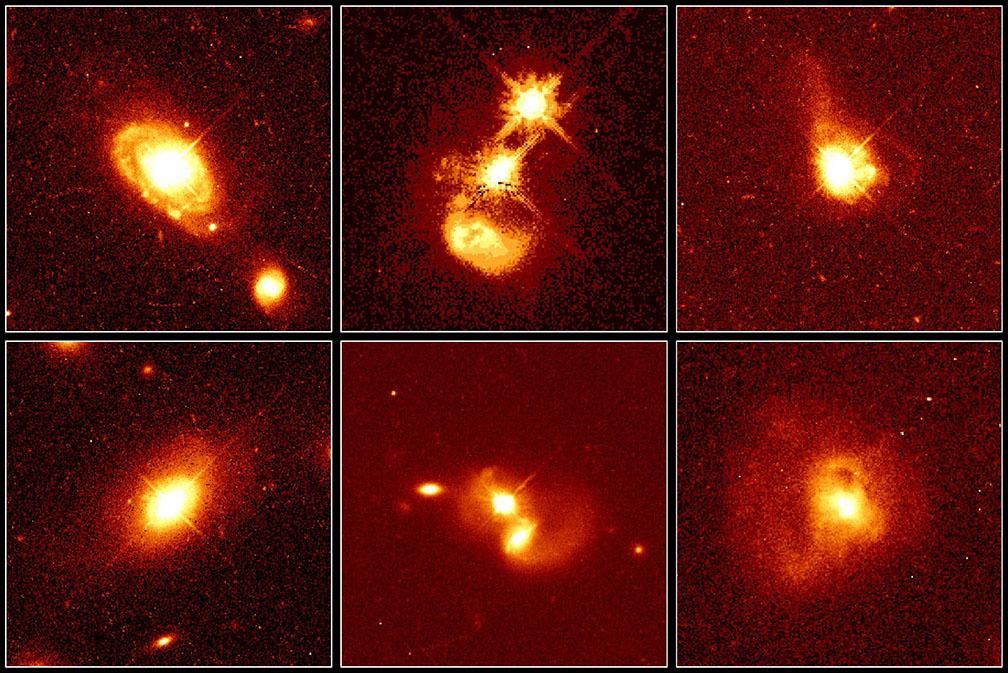 Long exposures made with the Hubble Space Telescope showing brilliant quasars flaring in the hearts of six distant galaxies.

 Credit: NASA/ESA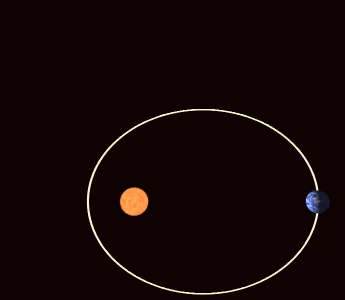 Illustration of a gradually precessing orbit similar to the precessing orbit of the smaller smaller black hole 

orbiting the larger in OJ 287. Credit: Willow W / Wikipedia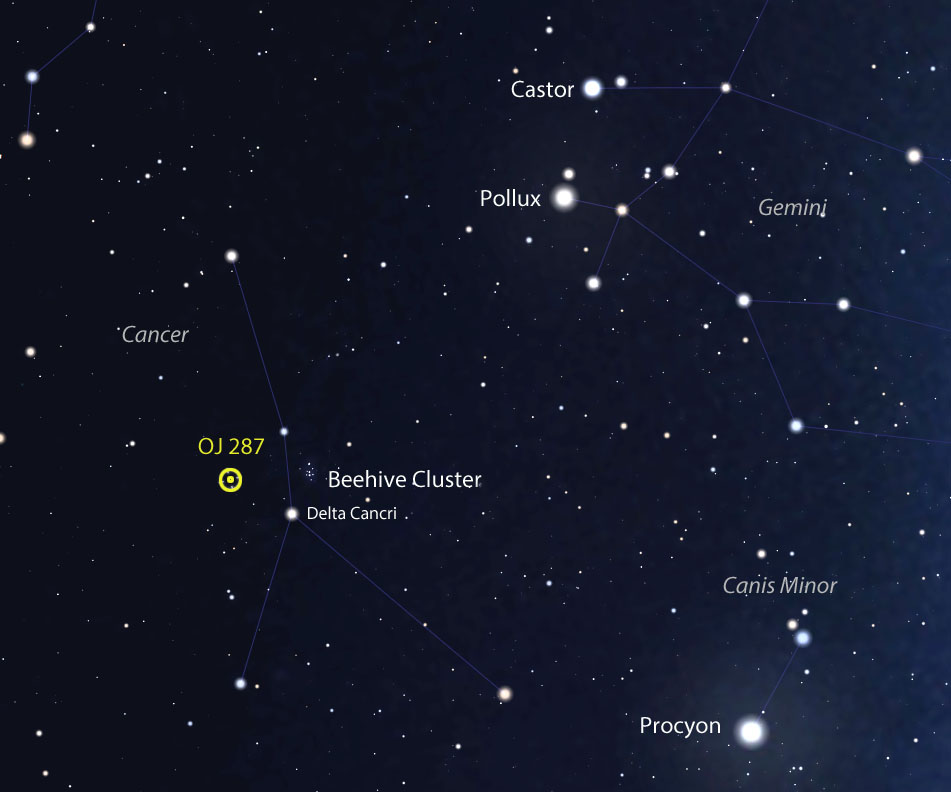 OJ 287 has been fluctuating around 13.5-140 magnitude lately. You can spot it in a 10-inch

 or larger scope in Cancer not far from the Beehive Cluster. Click the image for a detailed AAVSO finder chart.

 Diagram: Bob King, source: Stellarium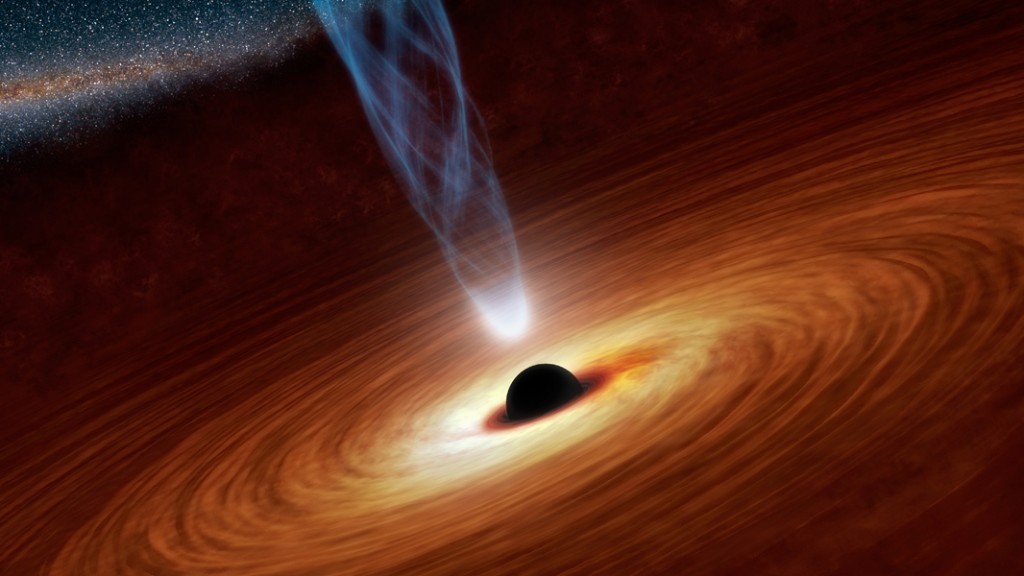 A supermassive black hole has been found in an unusual spot: an isolated region of space

 where only small, dim galaxies reside. 

 Image credit: NASA/JPL-Caltech

X-ray echoes of a shredded star provide close-up of monster black hole
NASA'S GODDARD SPACE FLIGHT CENTER PRESS RELEASE
CREDIT ASTRONOMY NOW MAGAZINE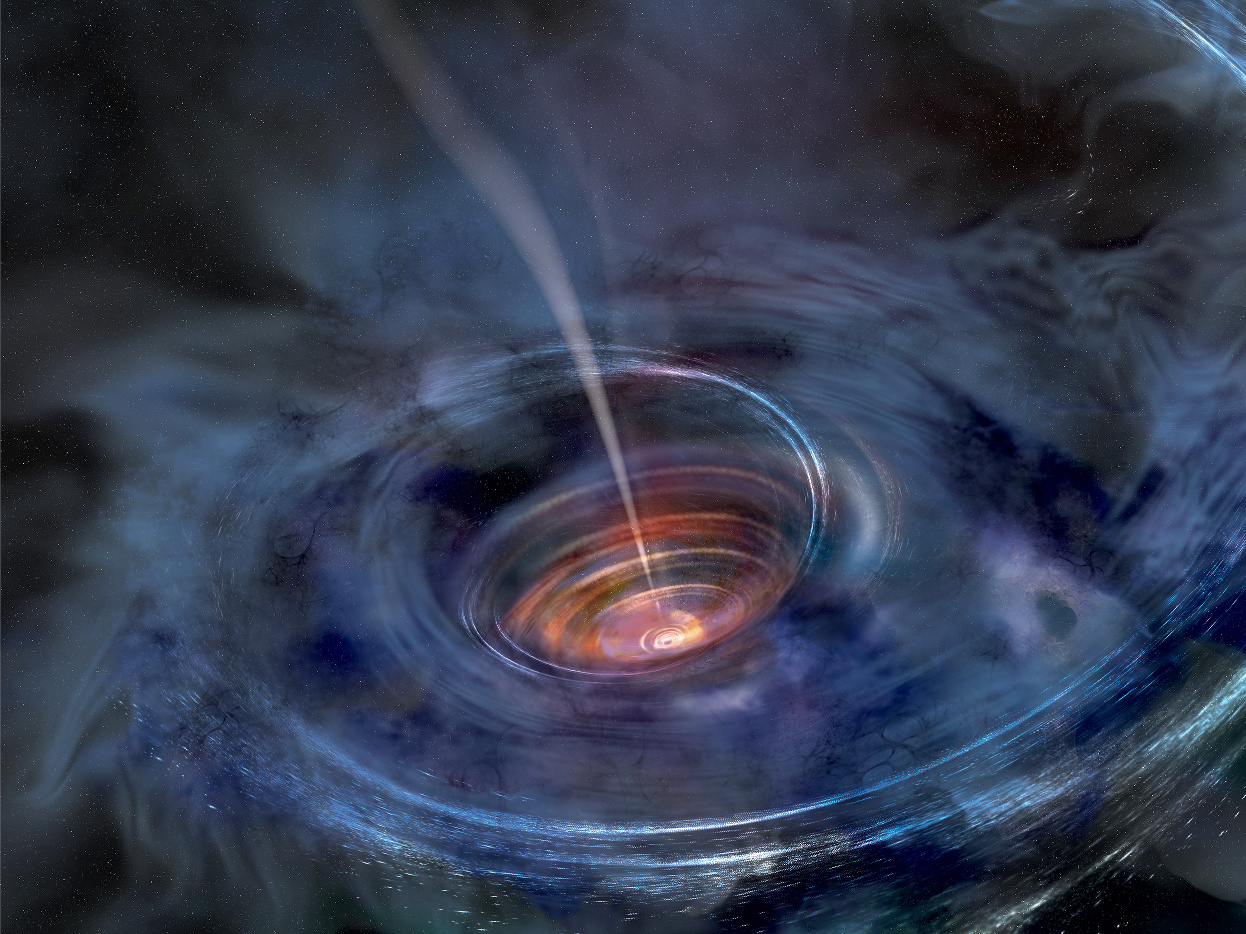 In this artist's rendering, a thick accretion disc has formed around a supermassive black hole 

following the tidal disruption of a star that wandered too close. Stellar debris has fallen toward the black hole

 and collected into a thick chaotic disc of hot gas. Flashes of X-ray light near the centre of the disc result in light echoes

 that allow astronomers to map the structure of the funnel-like flow, revealing for the first time strong gravity effects 

 around a normally quiescent black hole.

 Illustration credits: NASA/Swift/Aurore Simonnet, Sonoma State University.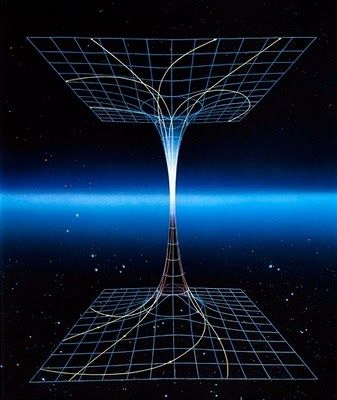 Parallel universes - Black Hole connected to a theoretical White Hole. 

- If the theoretical science is correct, there are an infinite number of universes

 with same situations and different outcomes, do you believe?

Chandra X-ray Observatory finds evidence for violent stellar merger CHANDRA X-RAY CENTER / NASA'S MARSHALL SPACE FLIGHT CENTER PRESS RELEASE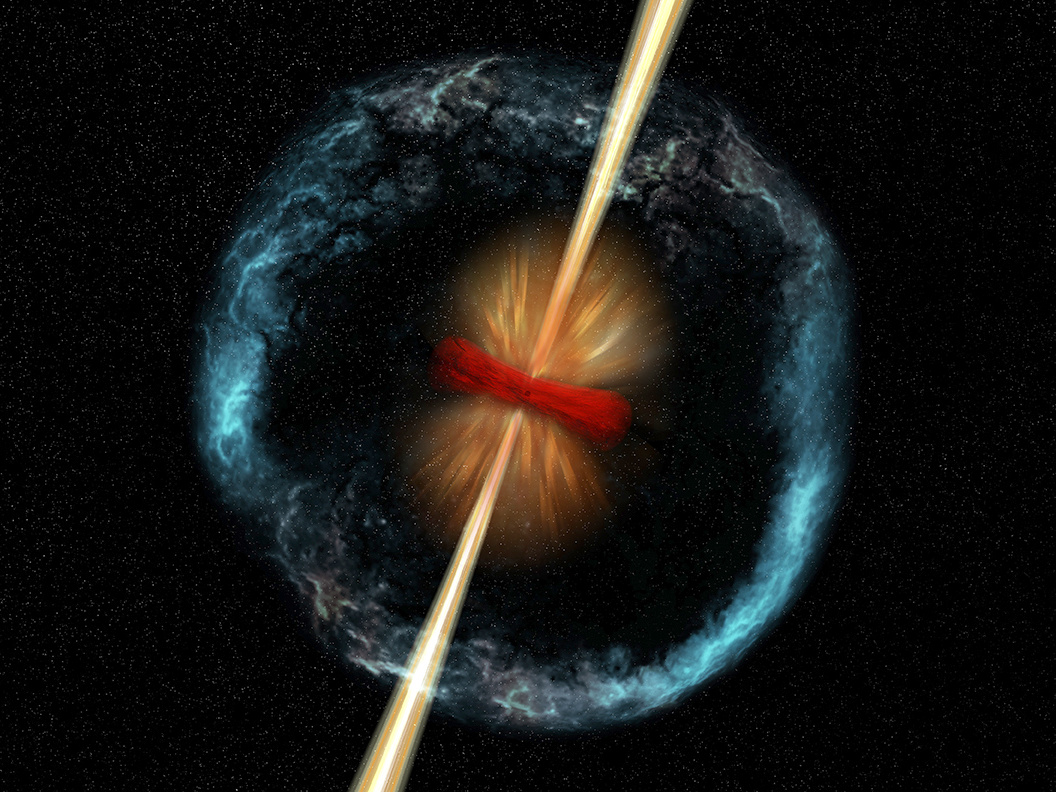 This artist's illustration depicts the aftermath of a neutron star merger, including the generation of a Gamma-ray burst (GRB).

In the centre is a compact object — either a black hole or a massive neutron star — and in red is a disc of material

 left over from the merger, containing material falling towards the compact object. Energy from this infalling material drives the GRB 

 jet shown in yellow. In orange is a wind of particles blowing away from the disc and in blue is material ejected from the compact object

 and expanding at very high speeds of about one-tenth the speed of light.

 Illustration credit: NASA/CXC/M.Weiss.

WHAT IS A SUPERMASSIVE BLACK HOLE? Published: 28 Nov , 2016 by Matt Williams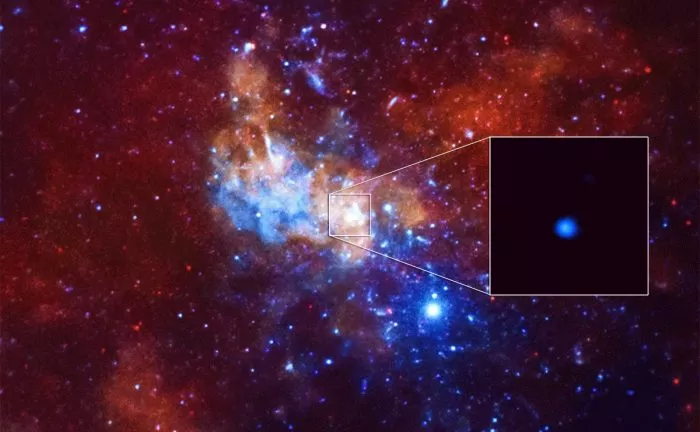 Detection of an unusually bright X-Ray flare from Sagittarius A*, 
a supermassive black hole in the center of the Milky Way galaxy.
 Credit: NASA/CXC/Stanford/I. Zhuravleva et al.

A BLACK HOLE'S RECORD BREAKING LUNCH
by Nancy Atkinson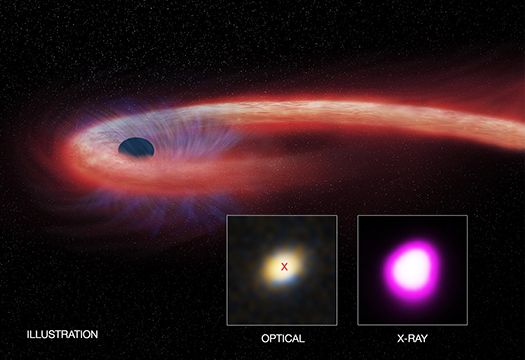 A trio of X-ray observatories has captured a decade-long eating binge by a black hole 
almost two billion light years away.
 Credit: X-ray: NASA/CXC/UNH/D.Lin et al, Optical: CFHT, Illustration: NASA/CXC/M.Weiss.

A Quick Look at XJ1500+0154

Published on Feb 6, 2017
Black holes are extremely compact and dense, generating incredibly powerful gravitational forces.
When an object, like a star, wanders too close, these forces can rip that object to pieces.
Some of the material from the doomed object is hurtled out into space. The black hole devours the rest. 
Astronomers just found a black hole gnawing on the remains of a star for over ten years. 
This is the largest meal, or the first clean-your-plate job, for a black hole ever seen.
Category
Science & Technology
License
Standard YouTube License

CLOSEST STAR AROUND A BLACK HOLE DISCOVERED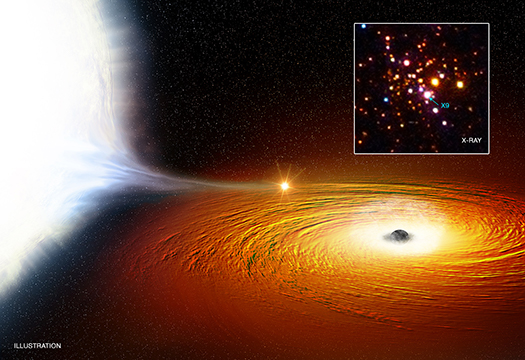 This artist's impression depicts a white dwarf star found in the closest known orbit around a black hole.
 As the circle around each other, the black hole's gravitational pull drags material from the
 white dwarf's outer layers toward it. Astronomers found that the white dwarf in X9 completes one orbit around 
 the black hole in less than a half an hour. They estimate the white dwarf and black hole are separated
 by about 2.5 times the distance between the Earth and Moon — an extraordinarily small span in cosmic terms.
 (Credit: NASA/CXC/M.Weiss)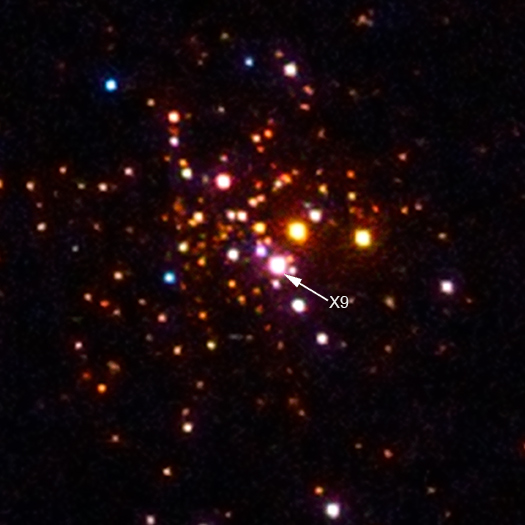 Astronomers found an extraordinarily close stellar pairing in the globular cluster 47 Tucanae,
 a dense collection of stars located on the outskirts of the Milky Way galaxy,
 about 14,800 light years from Earth. Credit: X-ray:
 NASA/CXC/University of Alberta/A.Bahramian et al.

WATCH STARS ORBIT THE MILKY WAY'S SUPERMASSIVE BLACK HOLE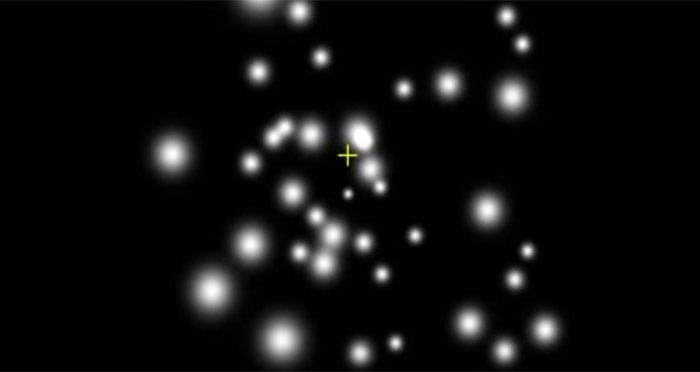 Stars circle 'round the Milky Way central supermassive black hole. Credit: ESO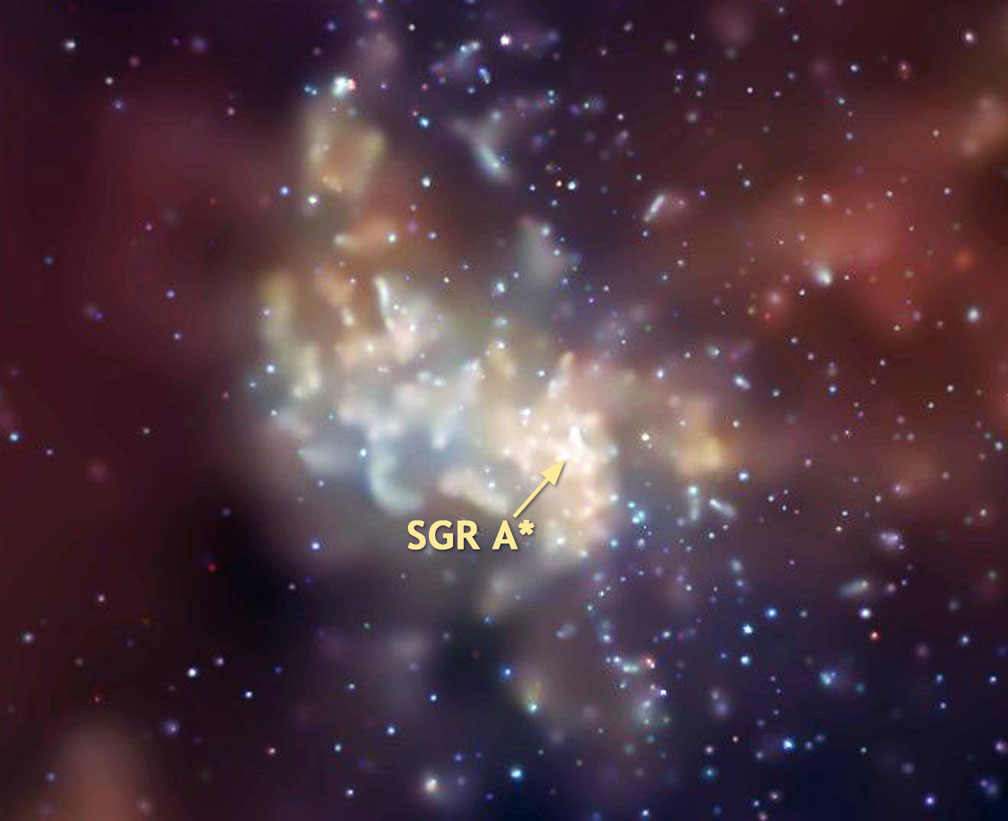 The Milky Way's supermassive black hole, called Sagittarius A* (or Sgr A*), 
is arrowed in the image made of the innermost galactic center in X-ray light by NASA's Chandra Observatory. 
To the left or east of Sgr A* is Sgr A East, a large cloud that may be the remnant of a supernova. 
Centered on Sgr A* is a spiral shaped group of gas streamers that might be falling onto the hole.
 Credit: NASA/CXC/MIT/Frederick K. Baganoff et al.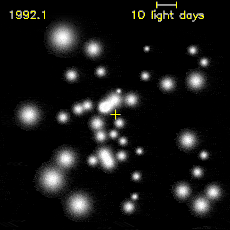 This time-lapse movie in infrared light shows how stars in the central light-year of the Milky Way
 have moved over a period of 14 years. The yellow mark at the image center represents the location of Sgr A*,
 site of an unseen supermassive black hole.
Credit: A. Eckart (U. Koeln) & R. Genzel (MPE-Garching), SHARP I, NTT, La Silla Obs., ESO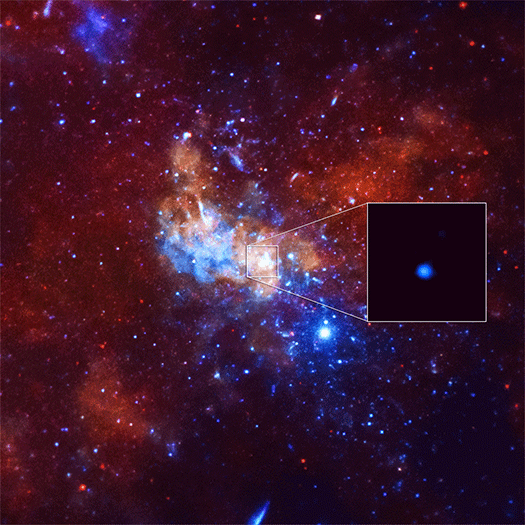 On September 14, 2013, astronomers caught the largest X-ray flare ever detected from Sgr A*,
 the supermassive black hole at the center of the Milky Way, using NASA's Chandra X-ray Observatory.
 This event was 400 times brighter than the usual X-ray output from the source and was possibly caused
 when Sgr A*'s strong gravity tore apart an asteroid in its neighborhood, heating the debris to X-ray-emitting
 temperatures before slurping down the remains.The inset shows the giant flare. 
 Credit: NASA

Motion of "S2" and other stars around the central Black Hole

Published on Oct 20, 2012
An international team of astronomers, lead by researchers at the Max-Planck Institute for Extraterrestrial Physics (MPE),
 has directly observed an otherwise normal star orbiting the supermassive black hole at the center of the Milky Way Galaxy.
Ten years of painstaking measurements have been crowned by a series of unique images obtained by the Adaptive Optics (AO)
 NAOS-CONICA (NACO) instrument on the 8.2-m VLT YEPUN telescope at the ESO Paranal Observatory.
 It turns out that earlier this year the star approached the central Black Hole to within 17 light-hours
 - only three times the distance between the Sun and planet Pluto - while travelling at no less than 5000 km/sec .
In a break-through paper appearing in the research journal Nature on October 17th, 2002, the present team reports
 their exciting results, including high-resolution images that allow tracing two-thirds of the orbit of a star designated "S2" .
 It is currently the closest observable star to the compact radio source and massive black hole candidate "SgrA*" ("Sagittarius A")
 at the very center of the Milky Way. The orbital period is just over 15 years.
The new measurements exclude with high confidence that the central dark mass consists of a cluster of unusual stars or elementary particles,
 and leave little doubt of the presence of a supermassive black hole at the centre of the galaxy in which we live .
ESO Press Video eso0226 was produced by the Max-Planck-Society and shows the observed motions of S2 and other stars in this area.

Credit: ESO
Category
Science & Technology
License
Standard YouTube License

Two Black Holes Merge into One

Published on Feb 11, 2016
A computer simulation shows the collision of two black holes, a tremendously powerful event detected for the first time 
ever by the Laser Interferometer Gravitational-Wave Observatory, or LIGO. LIGO detected gravitational waves,
 or ripples in space and time generated as the black holes spiraled in toward each other, collided, and merged.
 This simulation shows how the merger would appear to our eyes if we could somehow travel in a spaceship for a closer look.
 It was created by solving equations from Albert Einstein's general theory of relativity using the LIGO data.
The two merging black holes are each roughly 30 times the mass of the sun, with one slightly larger than the other.
 Time has been slowed down by a factor of about 100. The event took place 1.3 billion years ago. 
The stars appear warped due to the incredibly strong gravity of the black holes. The black holes warp space and time,
 and this causes light from the stars to curve around the black holes in a process called gravitational lensing.
 The ring around the black holes, known as an Einstein ring, arises from the light of all the stars in a small region behind the holes, 
 where gravitational lensing has smeared their images into a ring. 
The gravitational waves themselves would not be seen by a human near the black holes and so do not show in this video,
 with one important exception. The gravitational waves that are traveling outward toward the small region behind the black holes
 disturb that region's stellar images in the Einstein ring, causing them to slosh around, even long after the collision. 
 The gravitational waves traveling in other directions cause weaker, and shorter-lived sloshing, everywhere outside the ring.
This simulation was created by the multi-university SXS (Simulating eXtreme Spacetimes) project.
   For more information, visit
Image credit: SXS
Category
Science & Technology
License
Creative Commons Attribution license (reuse allowed)
Source videos
View attributionse