INTRODUCTION
Status of the Deep Space Network
NASA's Digital Orrery
MAST: Barbara A. Mikulski Archive for Space Telescopes
Map of the Universe from Johns Hopkins University and others.....

Johns Hopkins University (JHU) continues to pad its space community résumé with their interactive map, "The map of the observable Universe",
 that takes viewers on a 13.7-billion-year-old tour of the cosmos from the present to the moments after the Big Bang.
 While JHU is responsible for creating the site, additional contributions were made by NASA, the European Space Agency,
 the National Science Foundation, and the Sloan Foundation.

JWST's weekly observing schedule:
What Are Magnetars And Quasars?
<>
Neutron Stars, Pulsars, and Magnetars

Neutron Stars, Pulsars, and Magnetars are the most extreme objects in the Universe that aren't Black Holes.
 Their extreme densities make neutron stars the densest solid bodies in the Universe ultra-powerful magnetic fields.
 When these fields sweep along our line of sight, we see them as Pulsars. Some Pulsars have have extremely 
 strong magnetic fields. We call these objects Magnetars. And when a Magnetar has a star quake, 
 the most violent explosions this side of a Supernova take place.
 🔔 Subscribe for more: 

: 🖖 Share this video with a fellow space traveler 

 🔴 Watch my most recent upload: 


🚀 Help me improve the channel by joining the community on Patreon  


🚀 Check out Launch Pad merchandise! 

Disclaimer: Some of these links go to one of my websites and some are affiliate links where 
I'll earn a small commission if you make a purchase at no additional cost to you.

 
✅ Let's connect: 
 For business inquiries - 
Twitter - @launchpadastro
Instagram - @launchpadastro
Facebook - 
Discord -


A MAGNETAR, THE MOST DANGEROUS MAGNET IN THE UNIVERSE WITH THE DIAMETRE OF 15 KM?
What the Most Powerful Magnet in the Universe is Capable of: Magnetars Explained

Learn more about astronomy and space for free at;

Please Subscribe:

Animations courtesy of Josh Sherrington of Heliosphere: 

Music is by Brandon Maahs. : Check out his website and music by clicking this link

Instagram
Facebook
Twitter
Reddit

Subreddit is moderated by Oliver Bourdouxhe

Special thanks to my Patrons: Juan Rodriguez, Danny Clemens, Owen, Mary-Helen Burns, Jarrell Hawkins, 
Conor Dillon, Donna, Michael Aufiero, Mohammad Abu Hawash, MechanoidOrange and Greenlandia.

Videos explaining things. Mostly over topics like history, geography, economics and science. 

We believe that the world is a wonderfully fascinating place, and you can find
 wonder anywhere you look. That is what our videos attempt to convey. 

Currently, I try my best to release one video every week. Bear with me :)

Select video clips courtesy of Nasa Goddard Scientific Visualization Studio.
 Links to all clips are taken from videos below...

svs.gsfc.nasa.gov/12605

svs.gsfc.nasa.gov/10144

svs.gsfc.nasa.gov/20267

svs.gsfc.nasa.gov/12593

svs.gsfc.nasa.gov/12004



MAGNETARS!
A Magnetar on the way to be born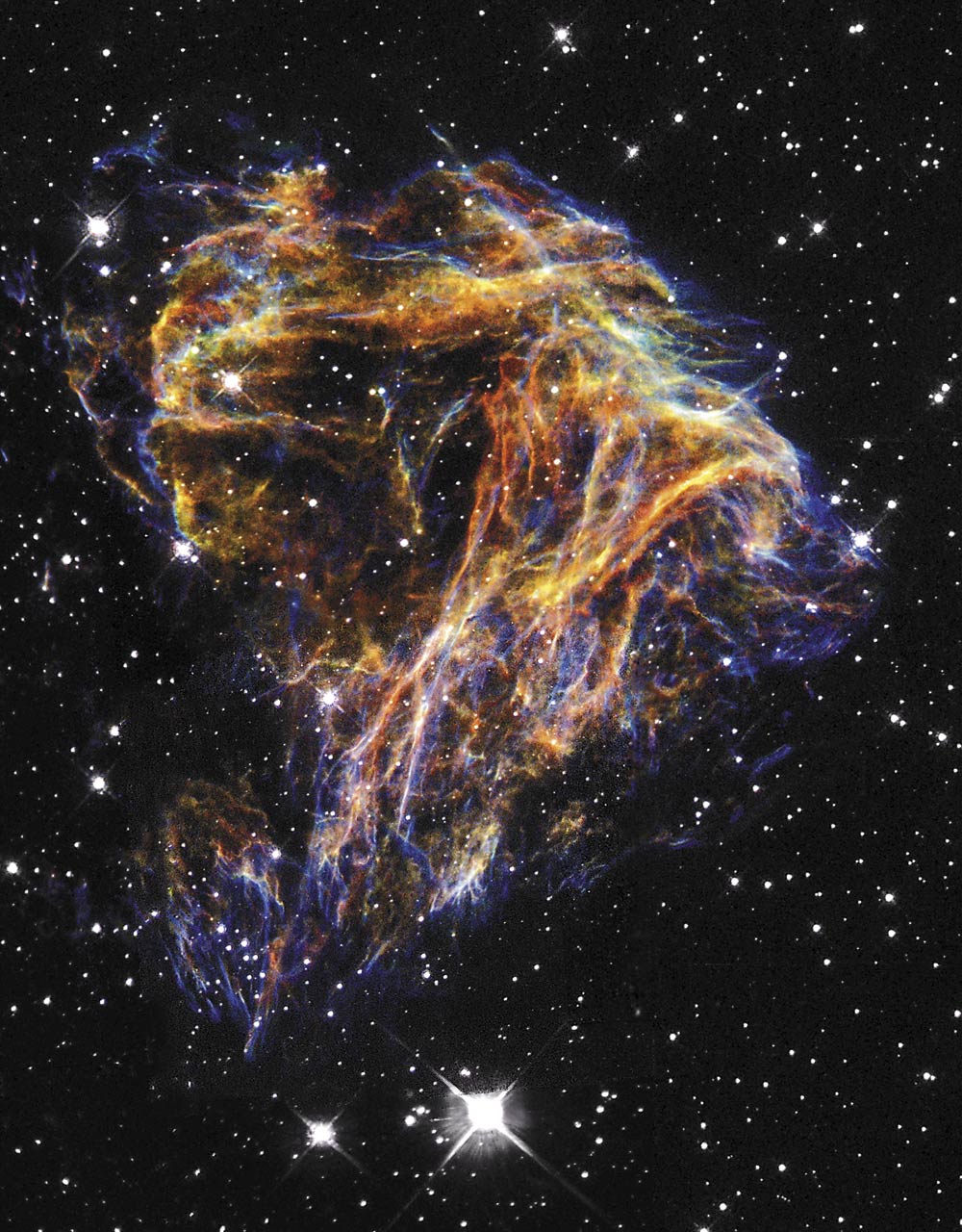 A Magnetar is Born  Some 160,000 light-years away in the Large Magellanic Cloud (LMC), a companion galaxy 
of our own Milky Way, a delicate nebula harbors a rare star with a very magnetic personality.
 Known as N 49, this nebula is a remnant of a massive star that died thousands of years ago. 
 This filamentary material will eventually be recycled into building new generations of stars in the LMC,
 much as our own Sun and planets are composed of debris of supernovae that exploded in the Milky Way billions
 of years ago. At the heart of N 49 is a massive spinning neutron star (also called a pulsar)
 , a common result of a supernova explosion. But N 49 also has a magnetic field a thousand trillion times stronger 
 than Earth's magnetic field, placing the star into an exclusive class of objects called magnetars.
Image credit: NASA and the Hubble Heritage Team (STScI / AURA)

First "wind nebula" found around an ultra-magnetic neutron star, or magnetar
NASA'S GODDARD SPACE FLIGHT CENTER PRESS RELEASE
Credit Astronomy Now Magazine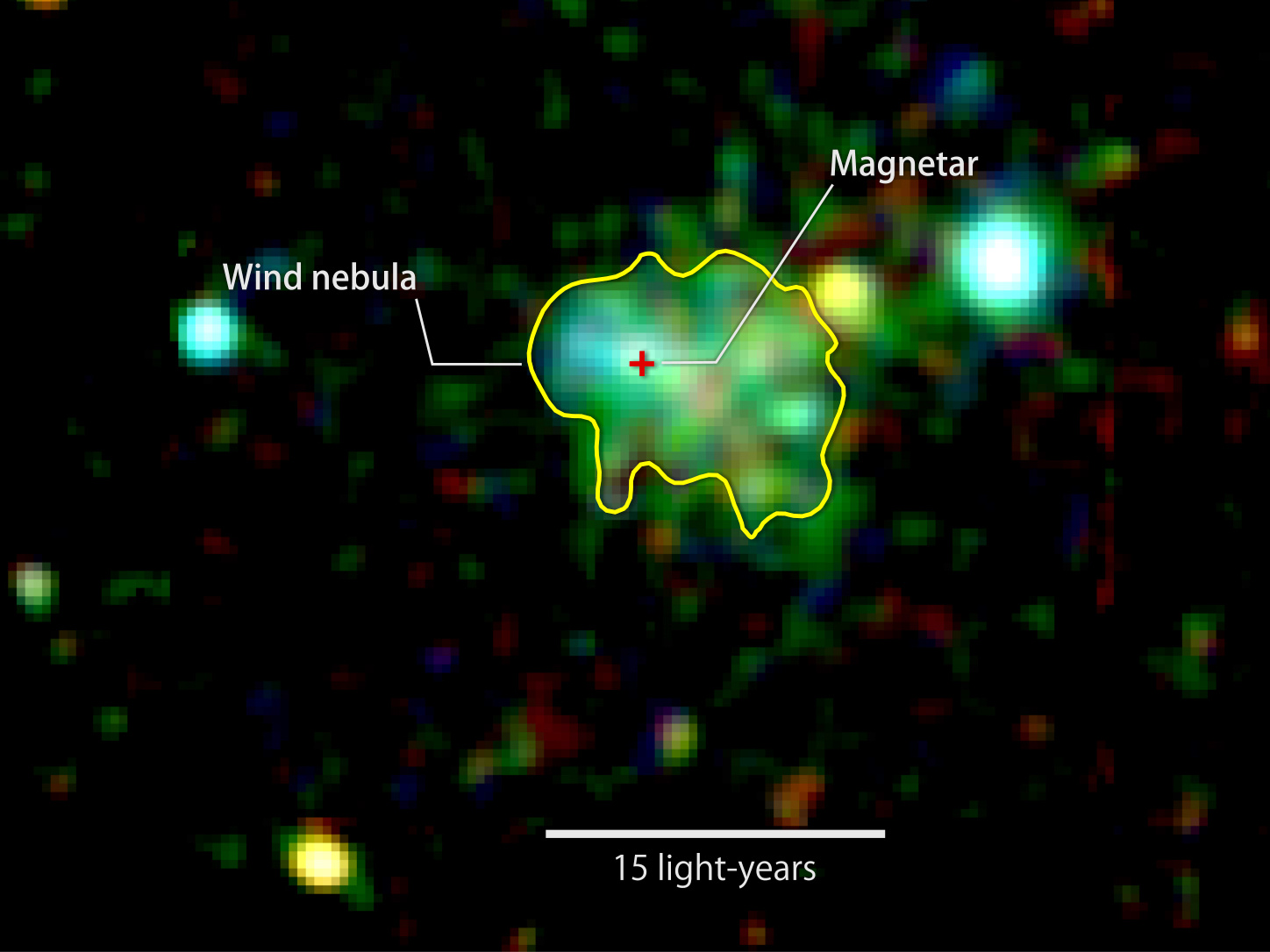 This X-ray image shows extended emission around a source known as Swift J1834.9-0846,

 a rare ultra-magnetic neutron star called a magnetar. The glow arises from a cloud of fast-moving particles produced

 by the neutron star and corralled around it. Colour indicates X-ray energies, with 2,000-3,000 electron volts (eV) in red,

 3,000-4,500 eV in green, and 5,000 to 10,000 eV in blue. 

 The image combines observations by the European Space Agency's XMM-Newton spacecraft taken on 16 March and 16 October 2014.

 Image credits: ESA/XMM-Newton/Younes et al. 2016.

First "Wind Nebula" Seen Around a Magnetar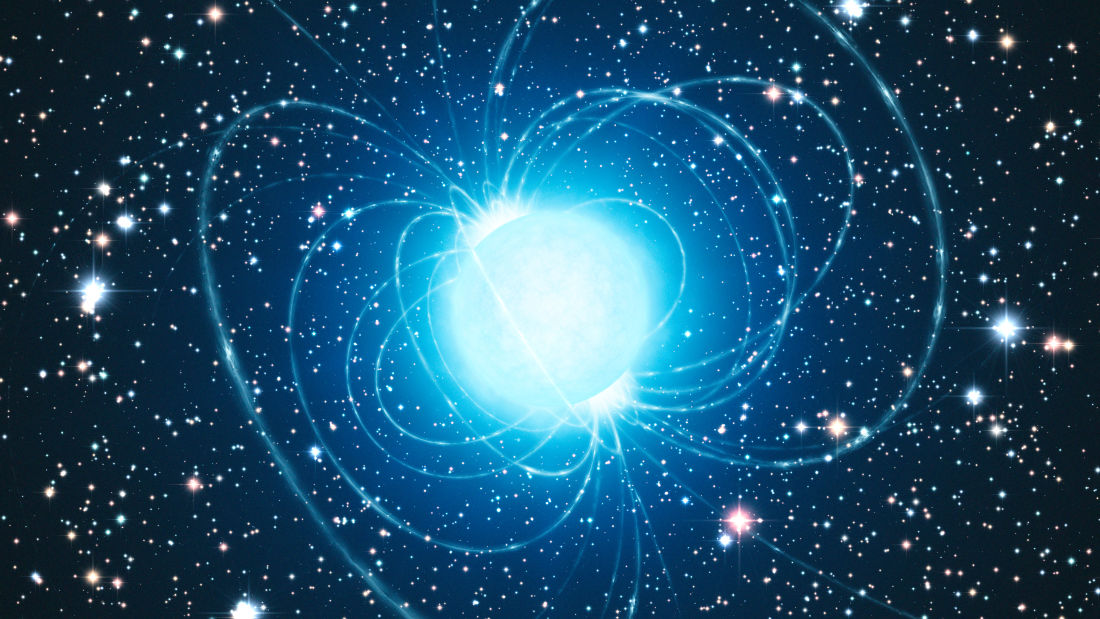 Artist Impression ESO/L CALCACA
Take the mass of half a million Earths and compress it down to the size of Manhattan.

 If you have taken precaution and survived the energy release from this process, then well done!

 You've got yourself a neutron star, one of the densest objects in the universe.
 CREDIT  Meet the IFLScience Team Alfredo Carpineti staff writwer

Magnetar could have boosted explosion of extremely bright supernova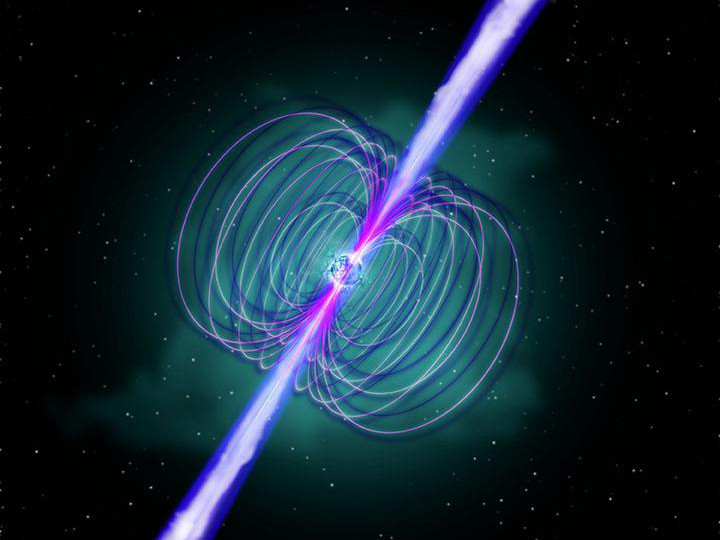 Artist's impression of a magnetar boosting a super-luminous supernova and gamma-ray burst.

 Image credit: Kavli IPMU.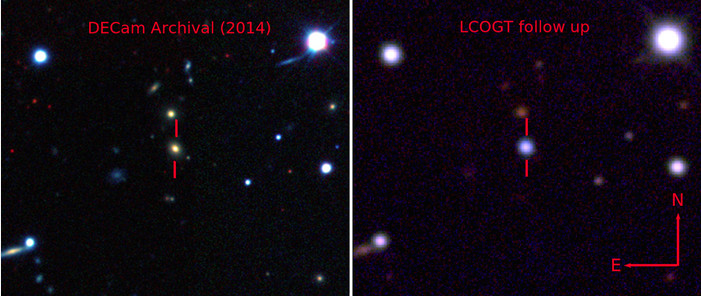 The yellow-orange host galaxy (left) before the supernova, and afterwards (right) when the ASASSN-15lh

 supernova's blue light outshines its host galaxy.

 Image credit: The Dark Energy Survey / B. Shappee / ASAS-SN team.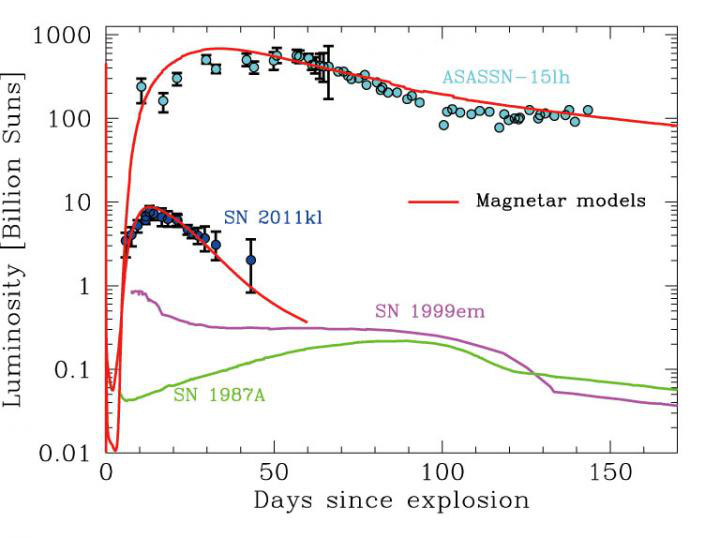 Light curves of ASASSN-15lh and SN 2011kl compared with normal supernovae SN 1999em and SN 1987A.

 Image credit: Bersten et al.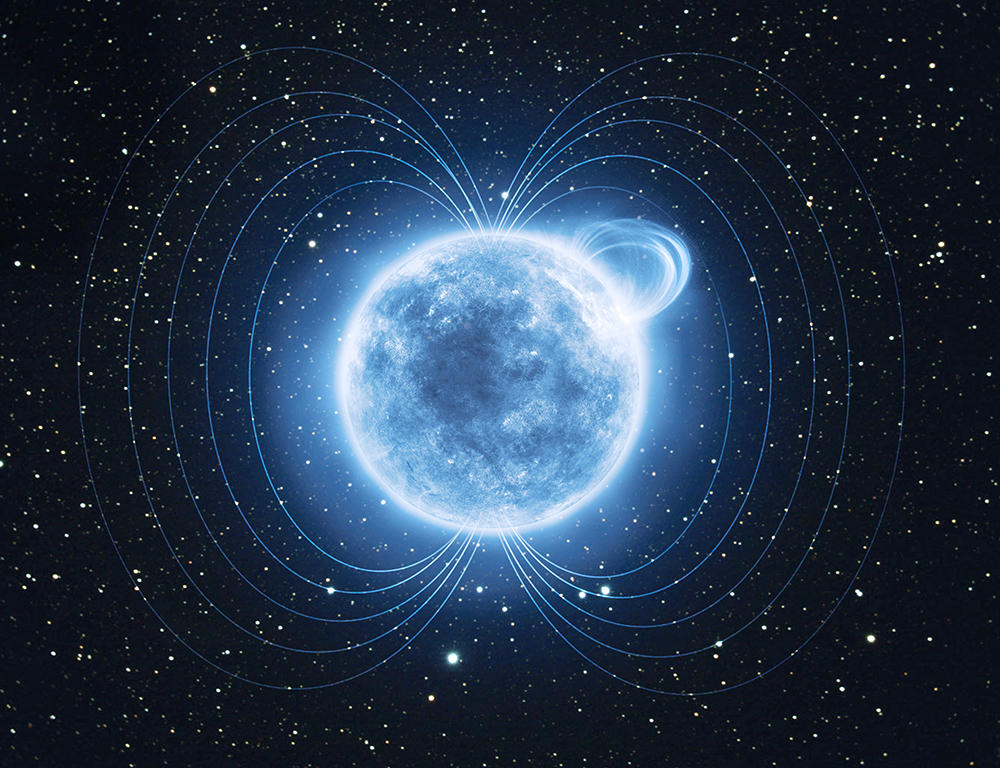 Some neutron stars may end up as ultra-small black holes.

A MAGNETAR JUST WOKE UP AFTER THREE YEARS OF SILENCE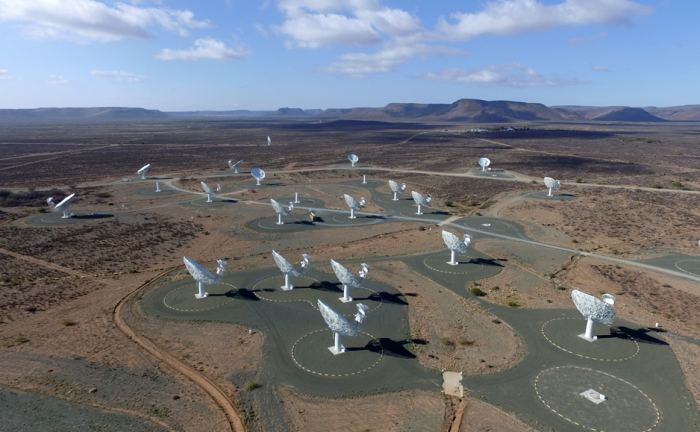 Aerial image of the South African MeerKAT radio telescope, part of the Square Kilometer Array (SKA).
 Credit: SKA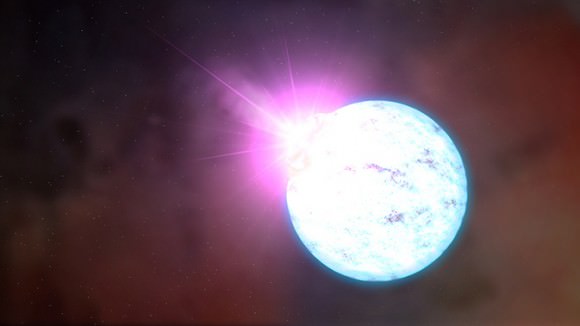 Artist's rendering of an outburst on an ultra-magnetic neutron star, also called a magnetar. 
Credit: NASA/Goddard Space Flight Center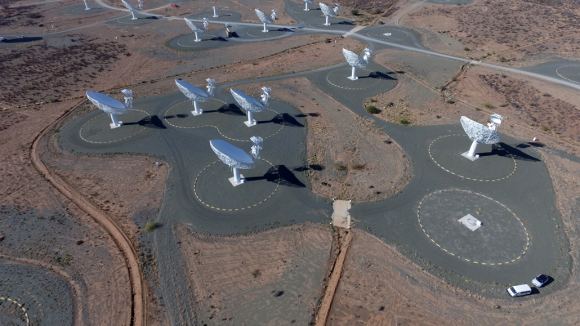 Aerial image of the South African MeerKAT radio telescope in the Karoo, South Africa.
 Credit: SKA

A brand new magnetar found, it's only 240 years old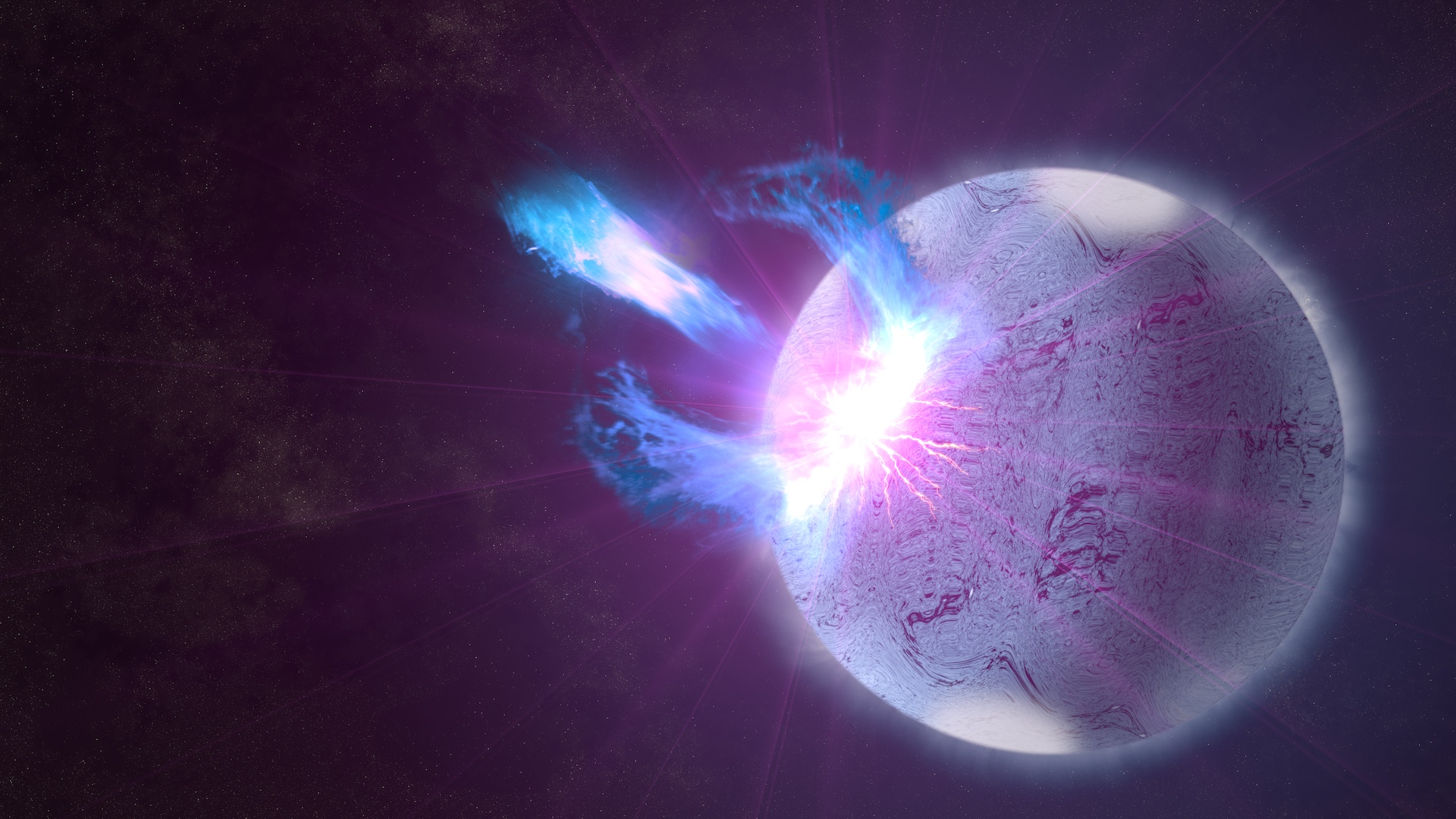 Magnetars are some of the most ridiculous objects in the universe. Composed of the densest material
 possible spinning faster than your kitchen blender, they generate the absolute most powerful
 magnetic fields the cosmos has ever seen – and astronomers have recently spotted a newborn.

Only 31 Magnetars Have Ever Been Discovered. This one is Extra Strange. It's Also a Pulsar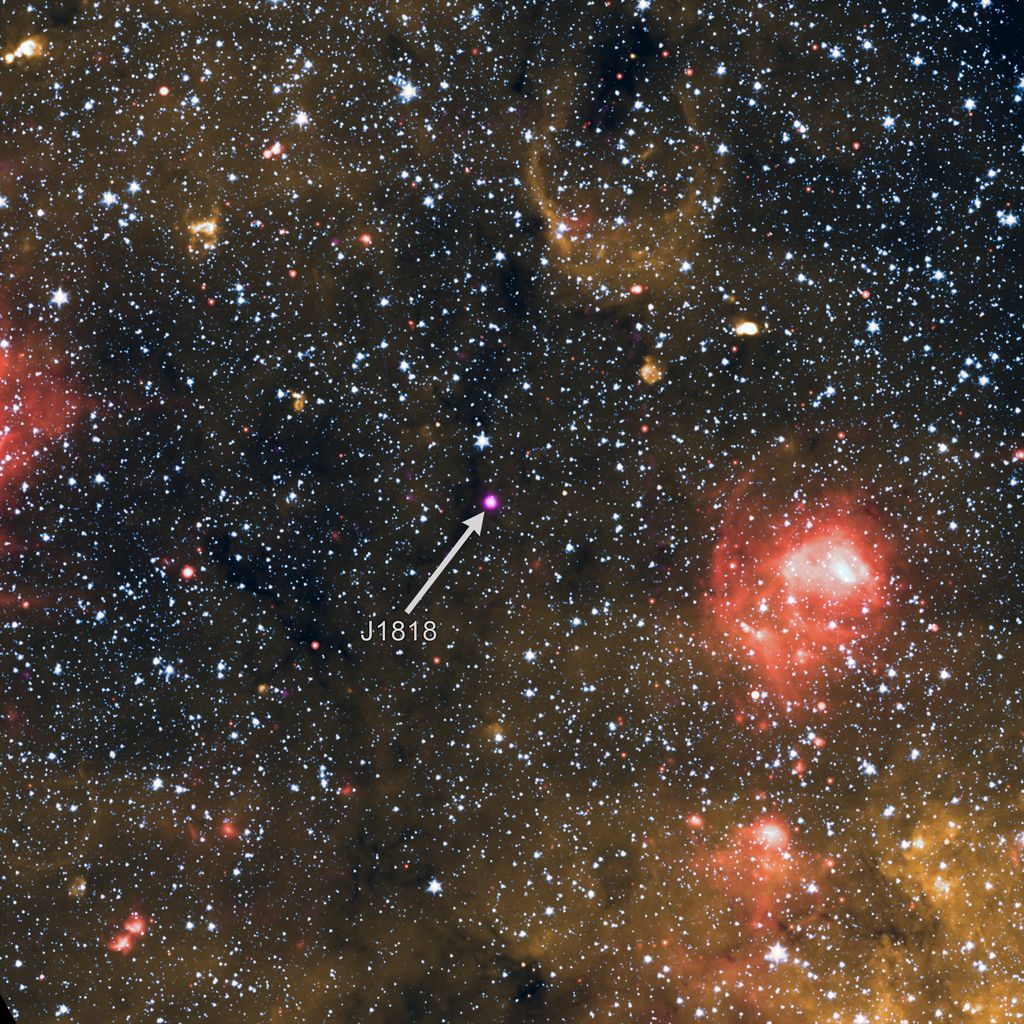 Some of the most stunningly powerful objects in the sky aren't necessarily the prettiest to look at. 
 But their secrets can allow humanity to glimpse some of the more intricate details of the universe 
 that are exposed in their extreme environs.  Any time we find one of these unique objects 
 it's a cause for celebration, and recently astronomers have found an extremely unique 
 object that is both a magnetar and a pulsar, making it one of only 5 ever found.

What are Magnetars?

Published on Aug 9, 2016
Magnetars are neutron stars with massively boosted magnetic fields.

 How do this stellar remnants form, and what would happen if you got too close to one?

Support us
More stories at:
Follow us on Twitter: @universetoday
Follow us on Tumblr
Like us on Facebook
Google+ -
Instagram -

Team: Fraser Cain - @fcain
Jason Harmer - @jasoncharmer
Chad Weber - weber.chad@gmail.com

Created by: Fraser Cain and Jason Harmer
Edited by: Chad Weber

Music: Left Spine Down - "X-Ray"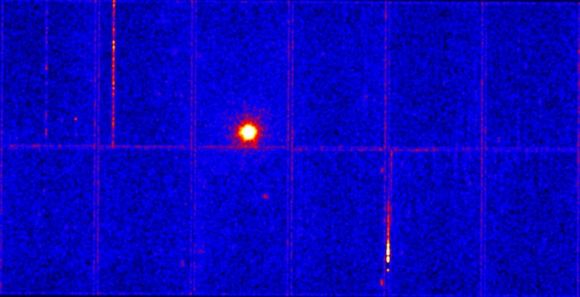 XMM-Newton observations of Swift J1818.0?1607.
 Image credit: ESA

What Is A Pulsar?
Astronomy Jargon 101: Magnetars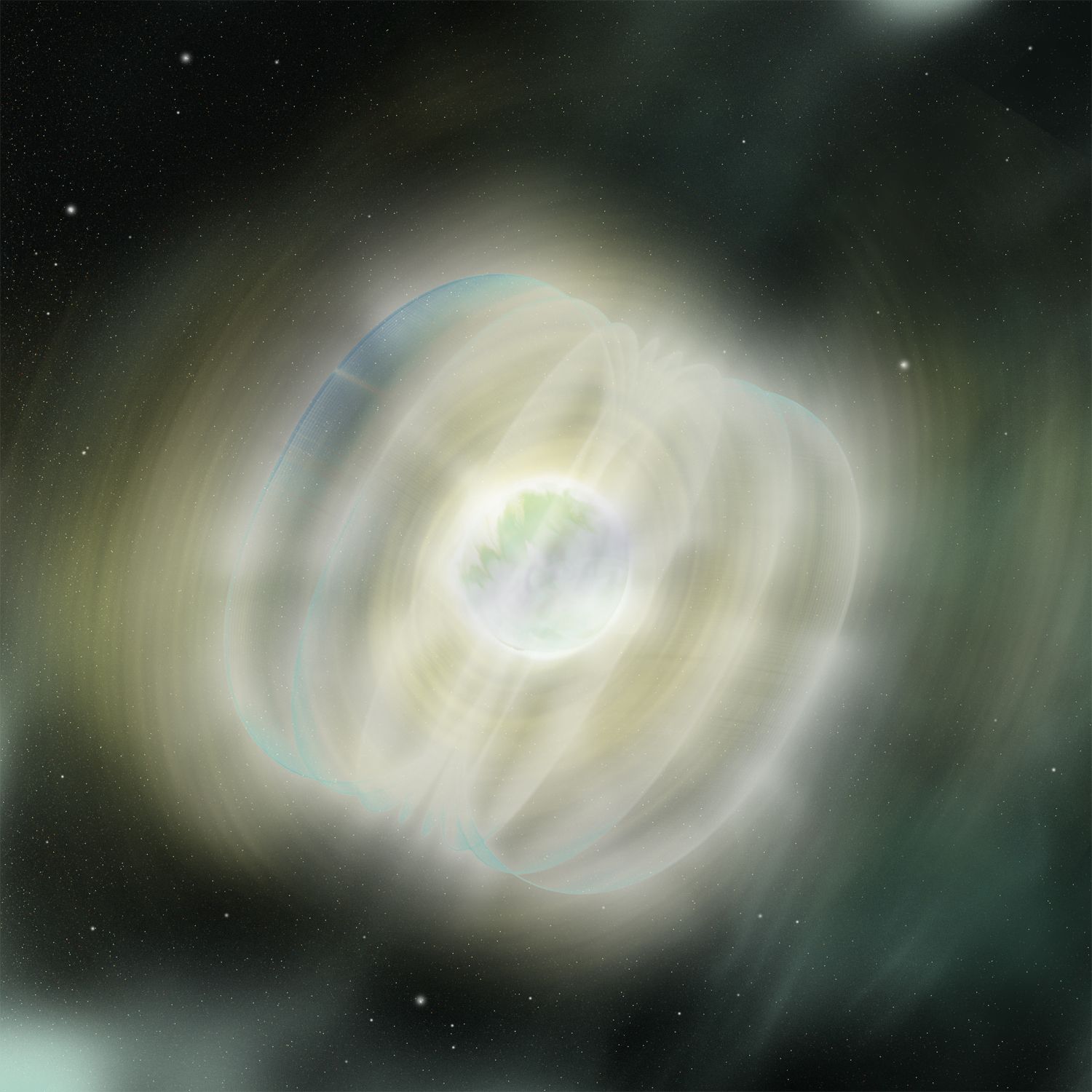 In this series we are exploring the weird and wonderful world of astronomy jargon! Hang on to your magnetic hats, because today's topic is magnetars!

Let's start with neutron stars. These are the remnant cores of giant stars,
 made almost entirely of pure neutrons. But there are also some electrons 
 and protons swimming around, and they'll be important in a second. 
 Neutron stars are already incredibly weird: they have several times
 the mass of the sun crammed into a volume about the size of Manhattan.
 That's a lot of density. You would be perfectly entitled to call
 neutron stars the largest atomic nuclei in the universe.

What are Neutron Stars? - Ask a Spaceman!

Full podcast episodes:
Support:
Follow: 
Follow: on twitter 

It's time for school! The Astro101 series will cover some of the most important 
questions in astronomy. In today's lesson, we'll have: What is a white dwarf?
 What is a neutron star? What is a black hole? I discuss these questions
 and more in today's Ask a Spaceman!
 
 Follow all the show updates at 

 and help support the show at

Keep those questions about space, science, astronomy, astrophysics,
 and cosmology coming to #AskASpaceman for COMPLETE KNOWLEDGE OF TIME AND SPACE! 
 Music by Jason Grady and Nick Bain.

---
Click here For Universe Today's pages on Astronomy Jargon 101: Magnetars
---
---
Click here to return to top of page
---
A magnetar has been discovered throwing off bizarre blasts of radiation. Is this where fast radio bursts come from?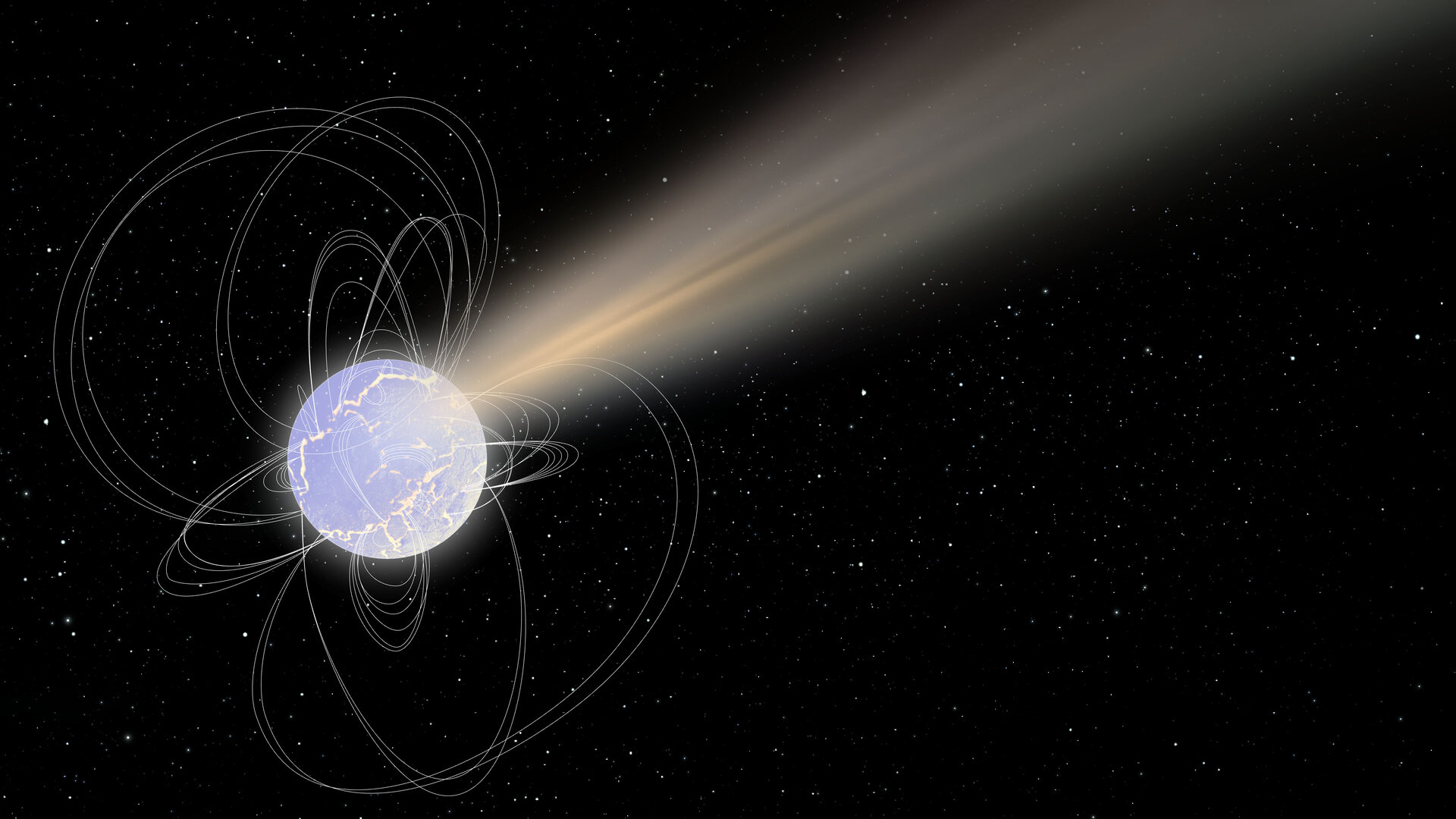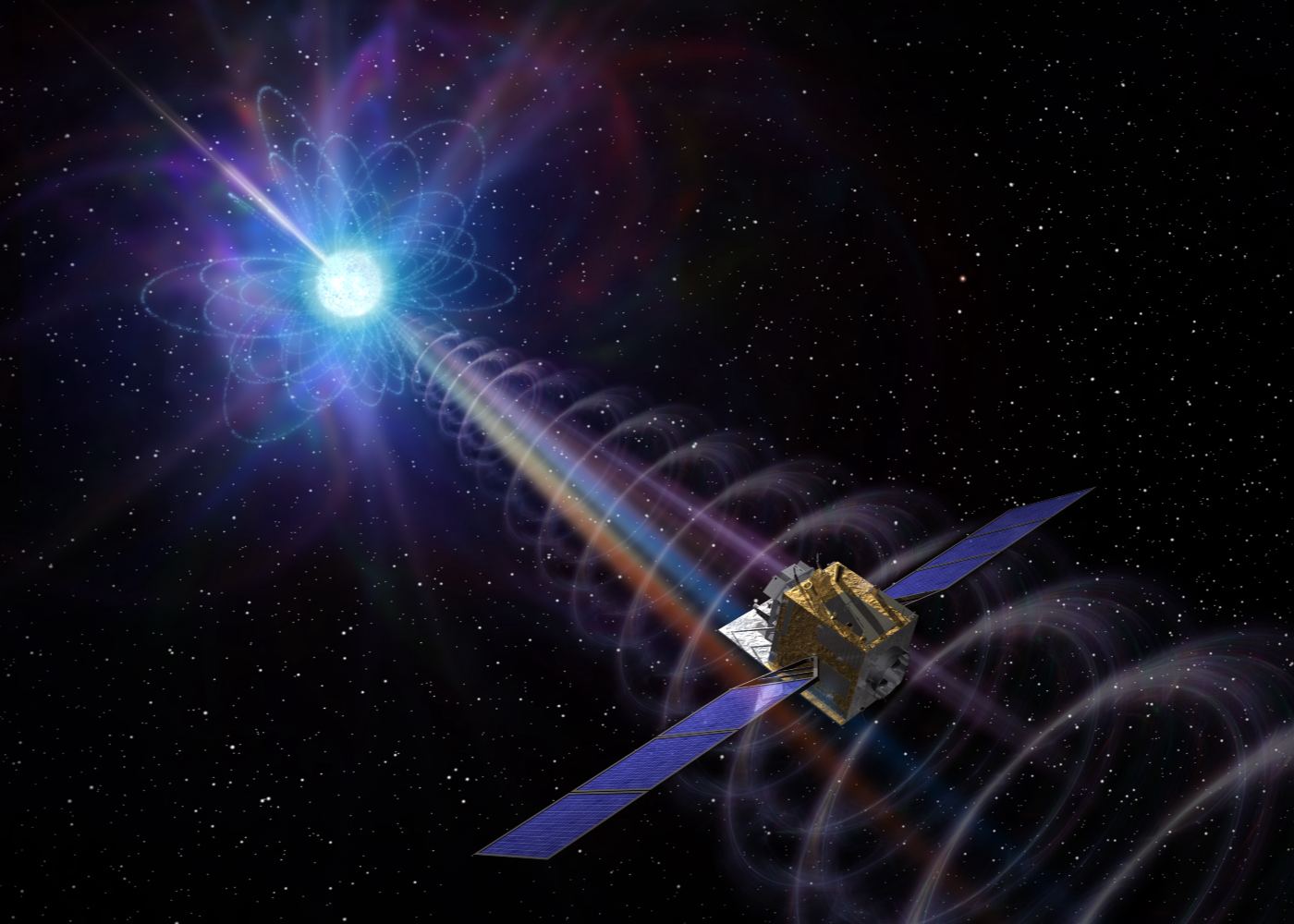 Magnetars are the ultimate aggressive star: intense magnetic fields, massive outbursts,
 the works. We've known that magnetars are capable of producing some of the most
 powerful blasts in the cosmos, but new observations reveal a different kind of radiation: 
 radio waves. This could potentially solve the long-standing
 puzzle of the origins of the mysterious Fast Radio Bursts.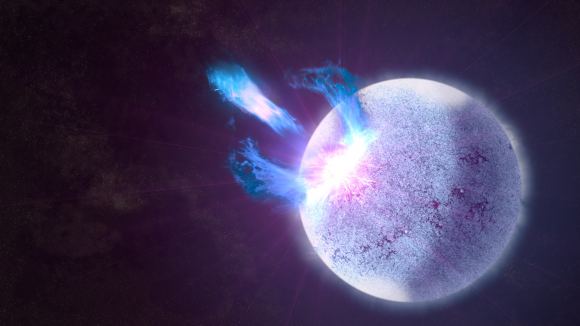 Recently, the ESA's Integral satellite captured such a high-energy flare from SGR 1935+2154,
 a magnetar hanging out in our own Milky Way galaxy. Immediately after the flash,
 Integral sent out a worldwide alert, telling other observatories where to look,
 in case they found something interesting too.

---
Click here Universe Today's Articles on Bizarre Blasts of Radition
---
---
Click here to return to top of page
---
---
Click here to Jump to Associated pages from Universetoday
---
---
Click here to return to top of page
---
---
Click here to return to top of page
---
---
Click here to Associated pages from Universetoday
---
---
Click here to Jump to Associated pages from universetoday
---
---
Click here to return to top of page
---
---
Click here to Click here to Jump to Associated pages from universetoday
---
---
Click here to return to top of page
---
---
---
Click here to return to top of page
---
---
Click here to return to top of Articles subsection
---