William Bacon's Homepages/GAMMA RAY BURSTS Bursts

---
---
---
This page was last updated on January 3, 2023
---
INTRODUCTION
Status of the Deep Space Network
NASA's Digital Orrery
MAST: Barbara A. Mikulski Archive for Space Telescopes
Map of the Universe from Johns Hopkins University and others.....

Johns Hopkins University (JHU) continues to pad its space community résumé with their interactive map, "The map of the observable Universe",
 that takes viewers on a 13.7-billion-year-old tour of the cosmos from the present to the moments after the Big Bang.
 While JHU is responsible for creating the site, additional contributions were made by NASA, the European Space Agency,
 the National Science Foundation, and the Sloan Foundation.

JWST's weekly observing schedule:
---
Click here to return to top of page
What are Gamma ray Bursts?
Solving the Mystery of Dark Gamma Ray Bursts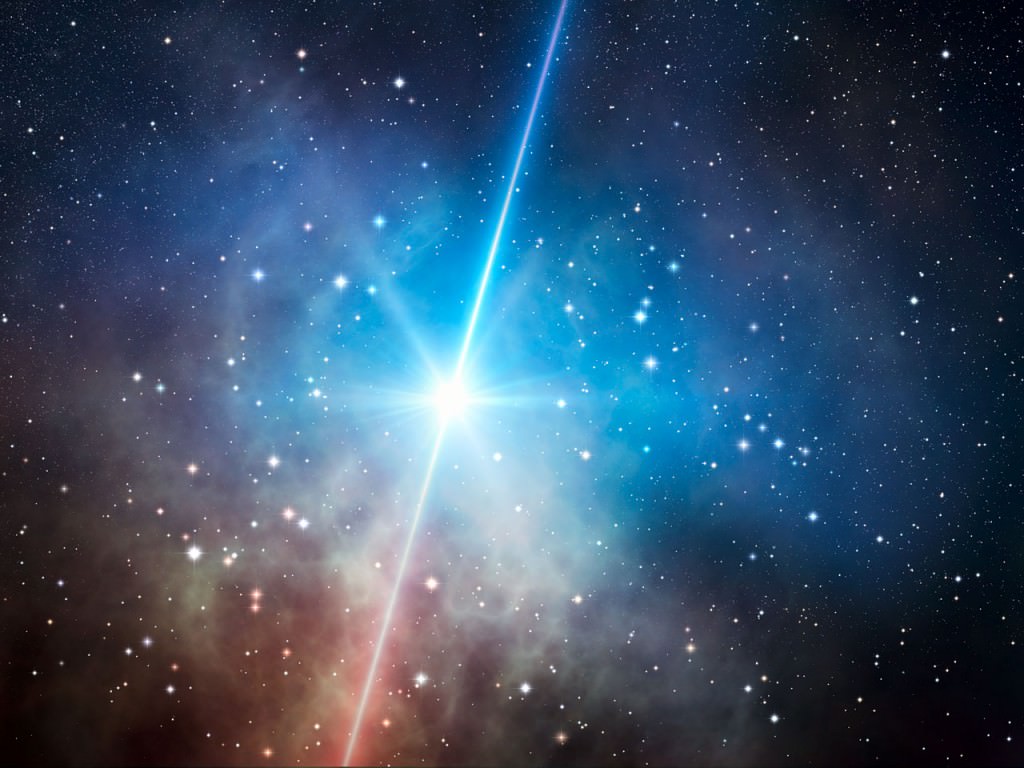 Unraveling the mystery of Gamma Ray Bursts (GRBs) is a story filled with international intrigue,
fantastic claims, serious back-tracking, and incremental improvements in our understanding 
of the true nature and implications of the most energetic, destructive forces in the Universe.
 New results from a team of scientists studying so-called "dark gamma-ray bursts"
 have firmly snapped a new piece into the GRB puzzle. This research is presented
 in a paper to appear in the journal Astronomy & Astrophysics on December 16, 2010.

---
Click here to Jump to Universe today's Pages on What are Gamma Ray Bursts
---
---
Click here to return to top of page
---
Exploding Material From a Gamma-ray Burst Scrambled Nearby Magnetic Fields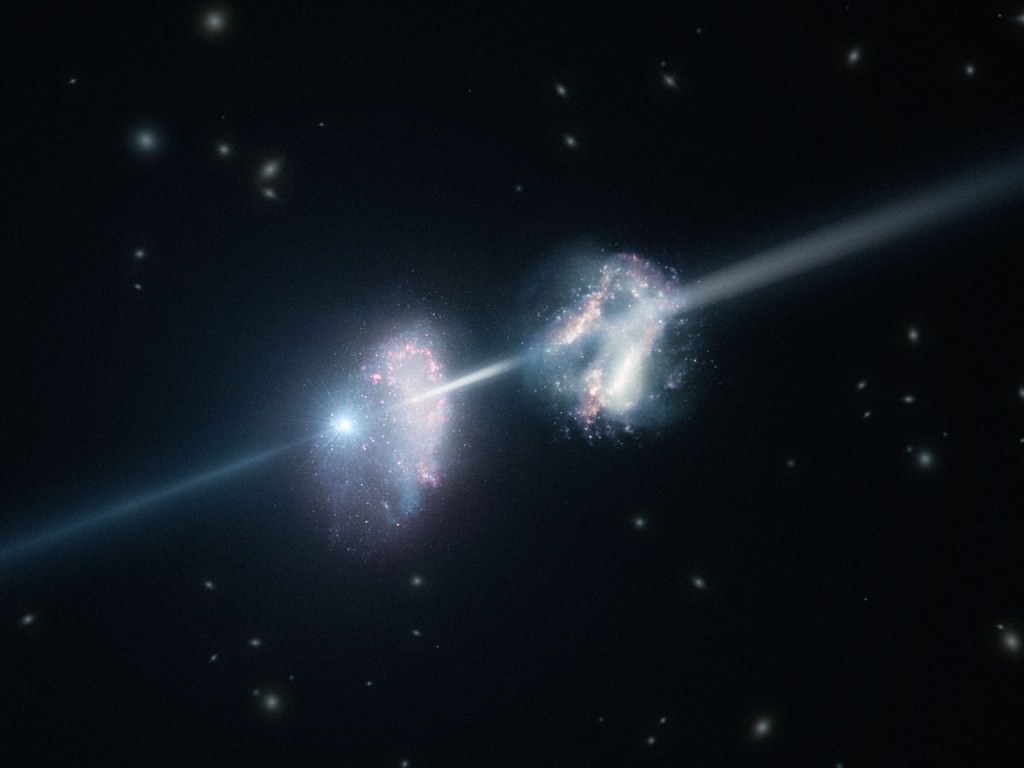 A team of astronomers has found that giant, organized magnetic fields can 
help drive some of the most powerful explosions in the universe. 
But when all is said and done, the shock wave from that blast
 scrambles any magnetic fields in a matter of minutes.

#AskASpaceman How do giant stars form? - Ask a Spaceman!

Full podcast episodes:
Support:
Follow: 
Follow: on twitter 
Follow:on Facebook
 Watch on YouTube:
 Go on an adventure:

It's time for school! The Astro101 series will cover some of the most important 
questions in astronomy. In today's lesson, we'll have: What's the difference between
 a "dwarf" and "giant" star? How are stars born? What happens when stars die?
 I discuss these questions and more in today's Ask a Spaceman!

Follow all the show updates at 

  and help support the show at

Keep those questions about space, science, astronomy, astrophysics,
 and cosmology coming to #AskASpaceman for COMPLETE KNOWLEDGE OF TIME AND SPACE! 
 Music by Jason Grady and Nick Bain.


---
Click here to Jump to Universe today's Pages on GRB's scrambeld by Magnetic Fields
---
---
Click here to return to top of page
---
GAMMA RAY BURSTS!!
PHYSICISTS HAVE CREATED AN ARTIFICIAL GAMMA RAY BURST IN THE LAB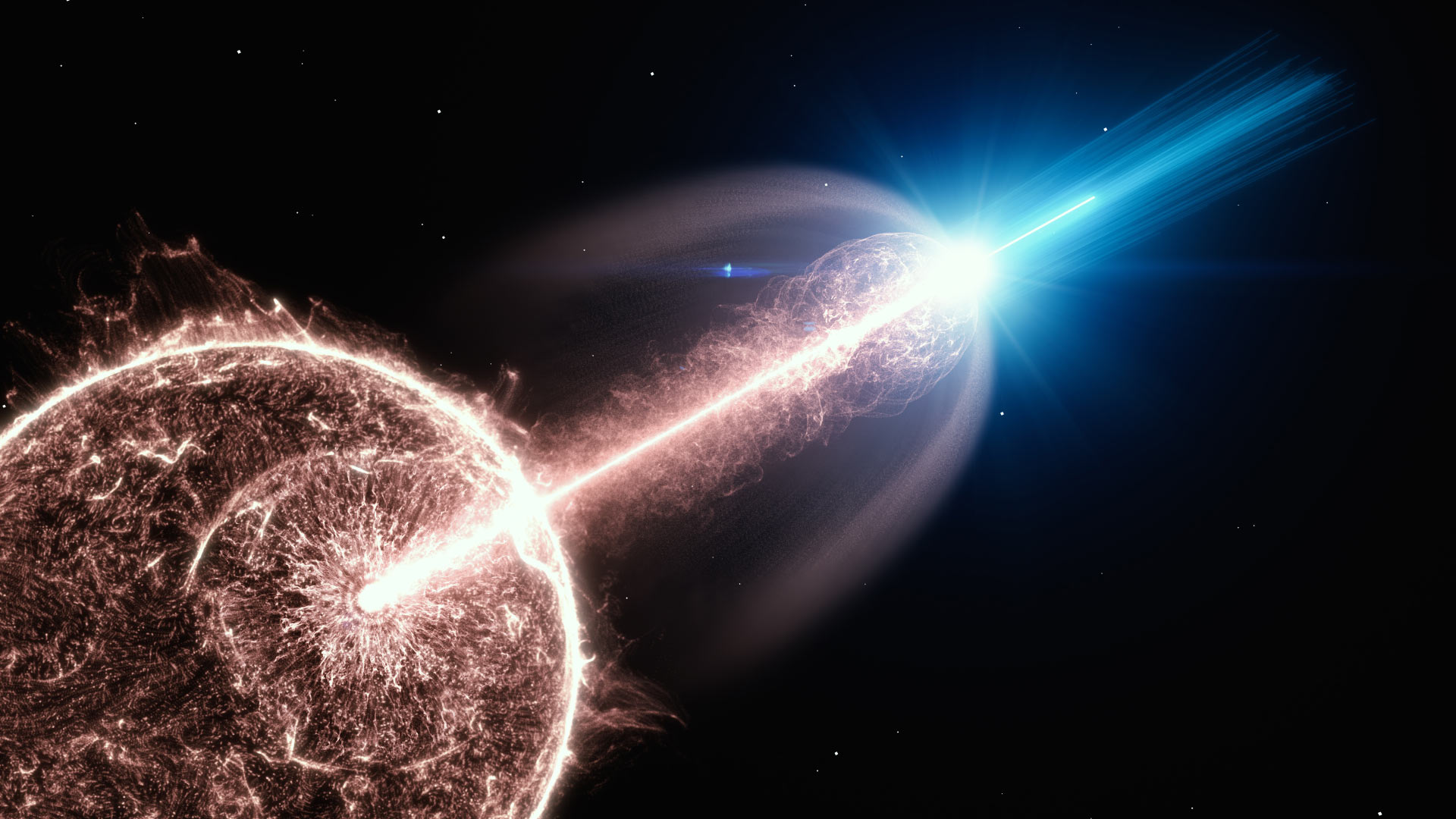 Artist's impression of a gamma-ray burst, showing the two intense beams of relativistic matter
 emitted by the black hole. To be visible from Earth, the beams must be pointing directly towards us.
 Credit : NASA/Swift/Mary Pat Hrybyk-Keith and John Jones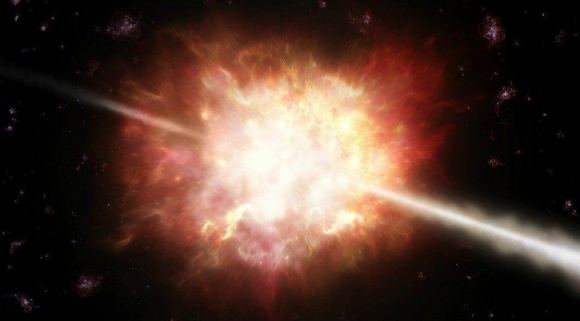 Artist's impression of a gamma ray burst in space.
 Credit: ESO/A. Roquette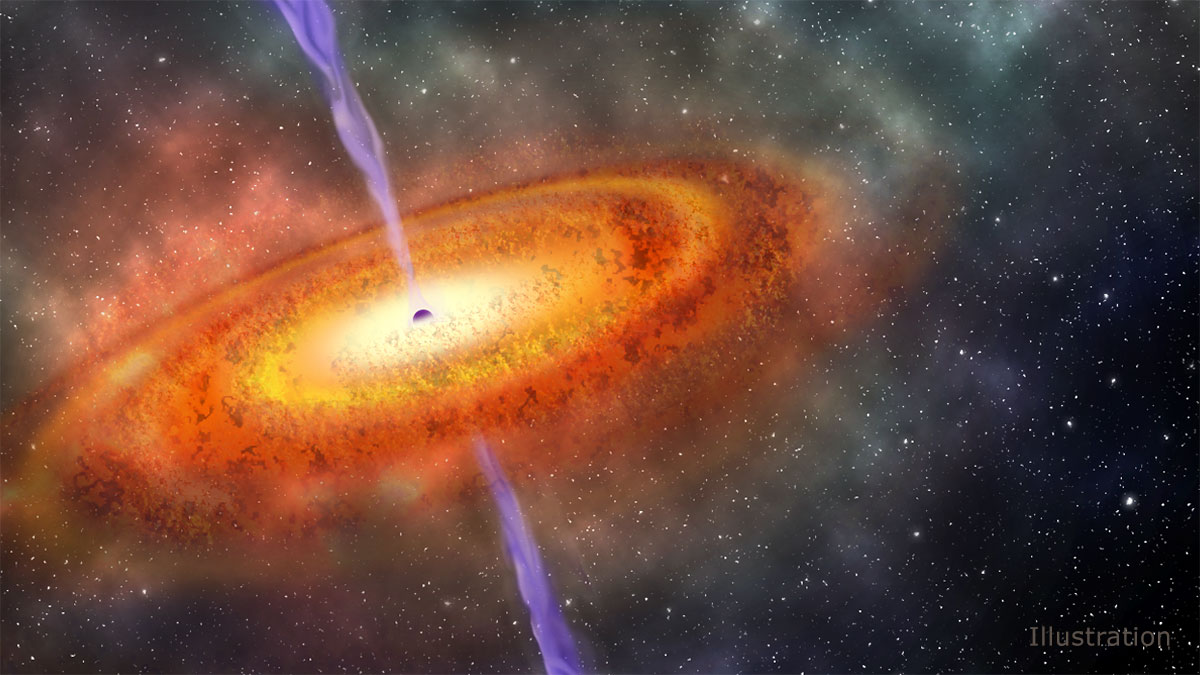 Artist's impression of a supermassive black hole emitting powerful jets
 of charged particles.
 Credit: Robin Dienel/Carnegie Institution for Science

Hubble Observes the Most Powerful Gamma Ray Burst Ever Detected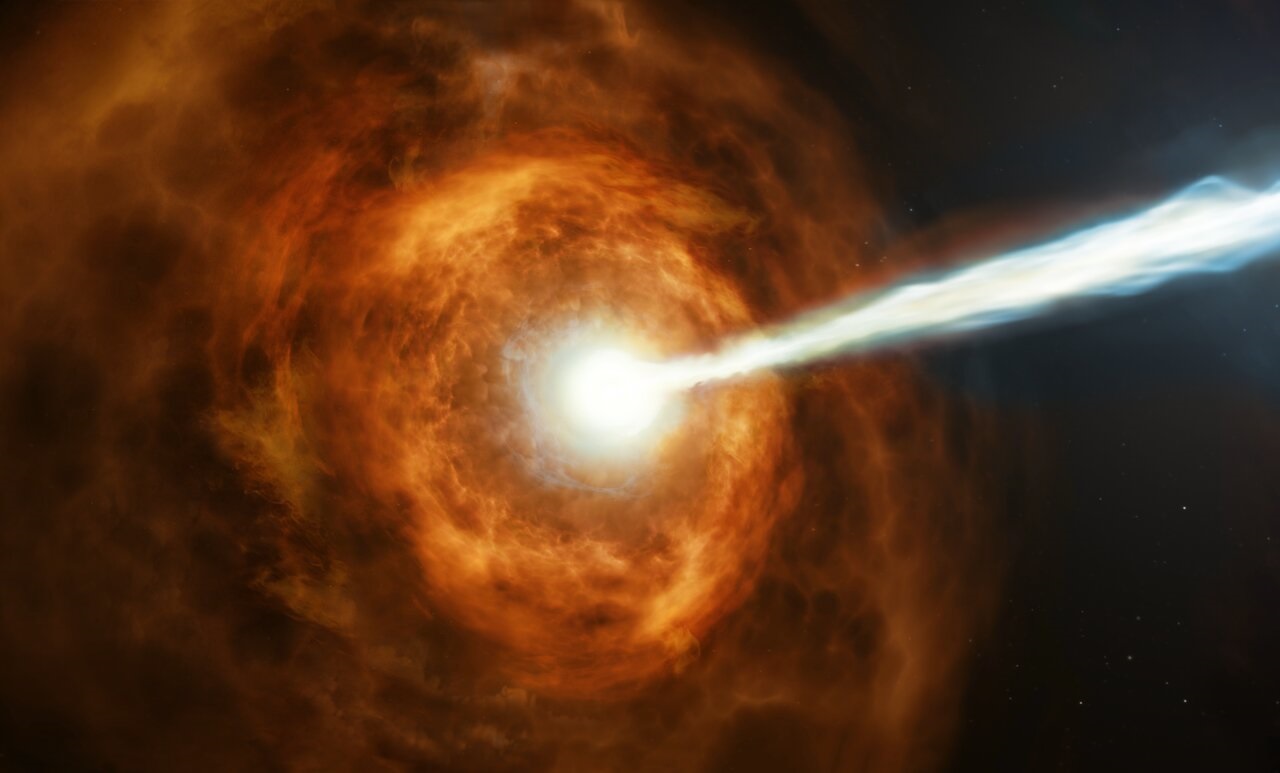 Gamma-ray bursts (GRBs) are one of the most energetic phenomena in the Universe,
 and also one of the least researched. These explosions of energy occur when 
 a massive star goes supernova and emits twin beams of gamma rays that can be seen
 billions of light-years away. Because they are closely tied with the formation of black holes,
 scientists have been eager to study this rare occurrence in greater detail.

Animation GRB 190114C (Artist's Impression)
---
Click here to return to top of page
---
It Takes Two Stars to Make a Gamma Ray Burst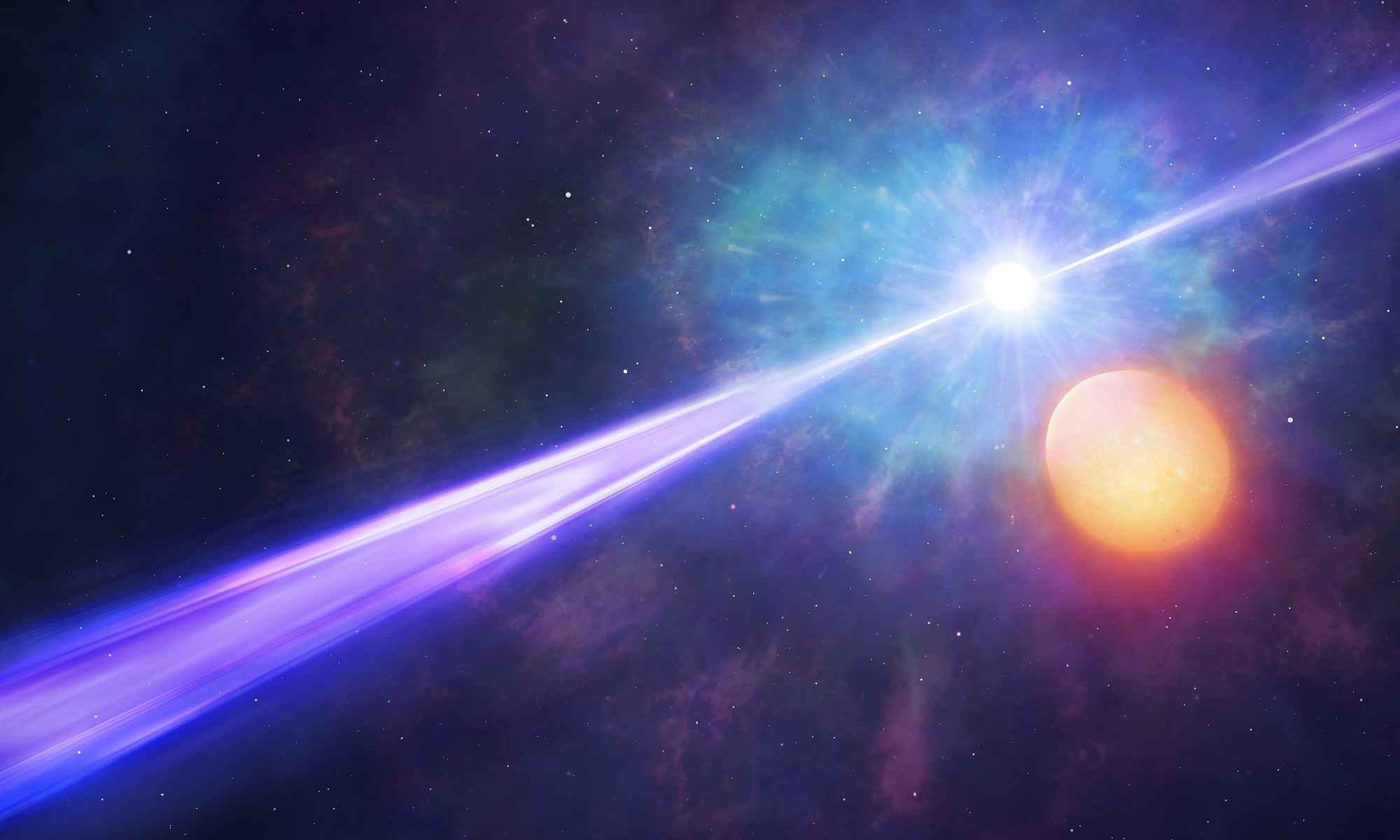 In 1967, NASA scientists noticed something they had never seen before coming from deep space.
 In what has come to be known as the "Vela Incident", multiple satellites registered a Gamma-Ray Burst (GRB)
 that was so bright, it briefly outshined the entire galaxy. Given their awesome power and the short-lived nature,
 astronomers have been eager to determine how and why these bursts take place.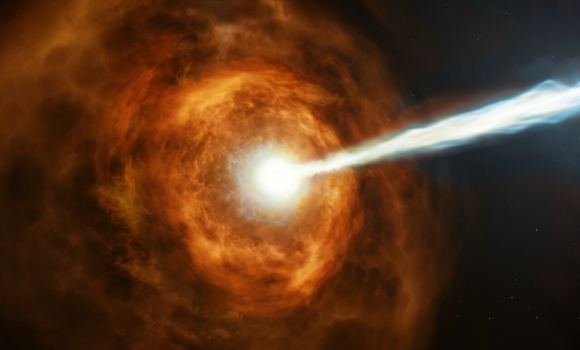 Artist's impression of the powerful gamma-ray burst GRB 190114C. 
Credit: NASA/ESA

Are Gamma Ray Bursts Dangerous?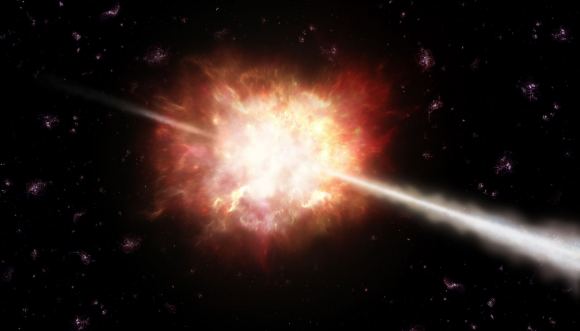 Gamma-ray bursts (GRBs) are powerful flashes of energetic gamma-rays lasting
 from less than a second to several minutes.
 Credit: ESO/A. Roquette

---
Click here to return to top of page
---
Gamma-ray Bursts can Help Astronomers Measure Vast Distances Across the Universe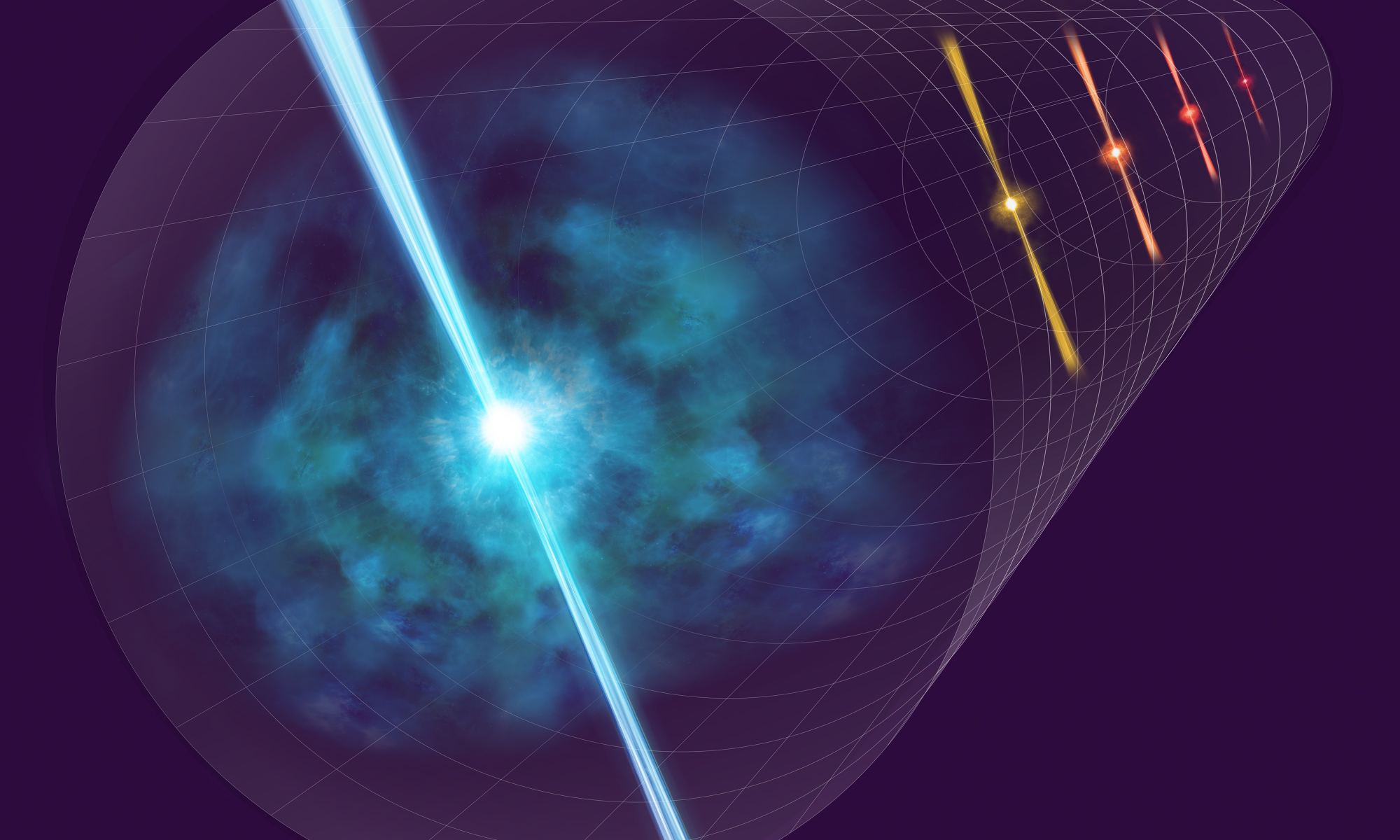 Now that the James Webb Space Telescope is operational, astronomers can study some of the most faint and distant galaxies ever seen.
 By some accounts, we may have already captured the image of a galaxy from when the universe was just 300 million years old.
 But we can't be entirely sure of its distance, and that is a big problem for astronomers.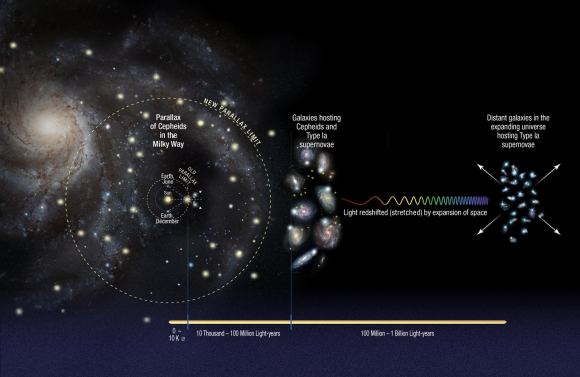 The cosmic distance ladder for measuring galactic distances.
 Credit: NASA,ESA, A. Feild (STScI), and A. Riess (STScI/JHU)

---
Click here to Click here to Associated pages from universetoday
---
---
Click here to return to top of page
---
---
Click here to Jump to Associated pages from universetoday
---
---
Click here to return to top of page
---
---
Click here to Click here to Jump to Associated pages from universetoday
---
---
Click here to return to top of page
---
---
---
---
Click here to Return to top of this article subsection
---
---
Click here to return to top of page
---
---
---
Universe today's CATEGORY: COSMOLOGY
Universe today's TAG: GAMMA RAY BURSTS
Universe today's TAG: STANDARD CANDLES
---
Click here to Return to top of this article subsection
---
---
Click here to Return to Gamma-ray Bursts can Help Astronomers Measure Vast Distances Across the Universe subsectuion
---
---
Click here to return to top of page
---
---
---
---
Astronomers Just saw the Most Powerful Gamma-ray Burst Ever Recorded
Earth's Gold Came From Colliding Stars
Universe Today's CATEGORY: ASTRONOMY
Universe Today's CATEGORY: BLACK HOLES
Universe Today's CATEGORY: GAMMA RAY BURSTS
Universe Today's TAG: BLACK HOLES
Universe Today's TAG: FEATURED
Universe Today's TAG: GAMMA RAY BURSTS
Universe Today's TAG: GEMINI OBSERVATORY
Universe Today's TAG: GRB
Universe Today's TAG: GRB221009A
Universe Today's TAG: NEUTRON STAR MERGERS
Universe Today's TAG: SUPERNOVAE
---
Click here to Return to top of this page
---
---
Click here to Return to top of this article subsection
---
---
Click here to Return to Astronomers Just saw the Most Powerful Gamma-ray Burst Ever Recorded subsection
---
---
---
---
How Artificial Intelligence Can Find the Source of Gamma-Ray Bursts
Finally an Answer to why Gamma Rays are Coming From Seemingly Empty Space
Gamma-ray Bursts Don't Always Signal the Birth of a Black Hole, Sometimes It's Just a New Neutron Star
Universe today's CATEGORY: GAMMA RAY BURSTS
Universe today's TAG: ARTIFICIAL INTELLIGENCE
Universe today's TAG: GAMMA RAY BURSTS
---
---
Click here to Return to top of this articles subsection
---
---
---
---
Click here to Jump to Top of this page
---
---
---
---
Click here to Return to the How Artificial Intelligence Can Find the Source of Gamma-Ray Bursts subsection
---
---