QUASARS!!!!!!!!!!!!!!!!!!!!!!!!
Too Big, Too Soon. Monster Black Hole Seen Shortly After the Big Bang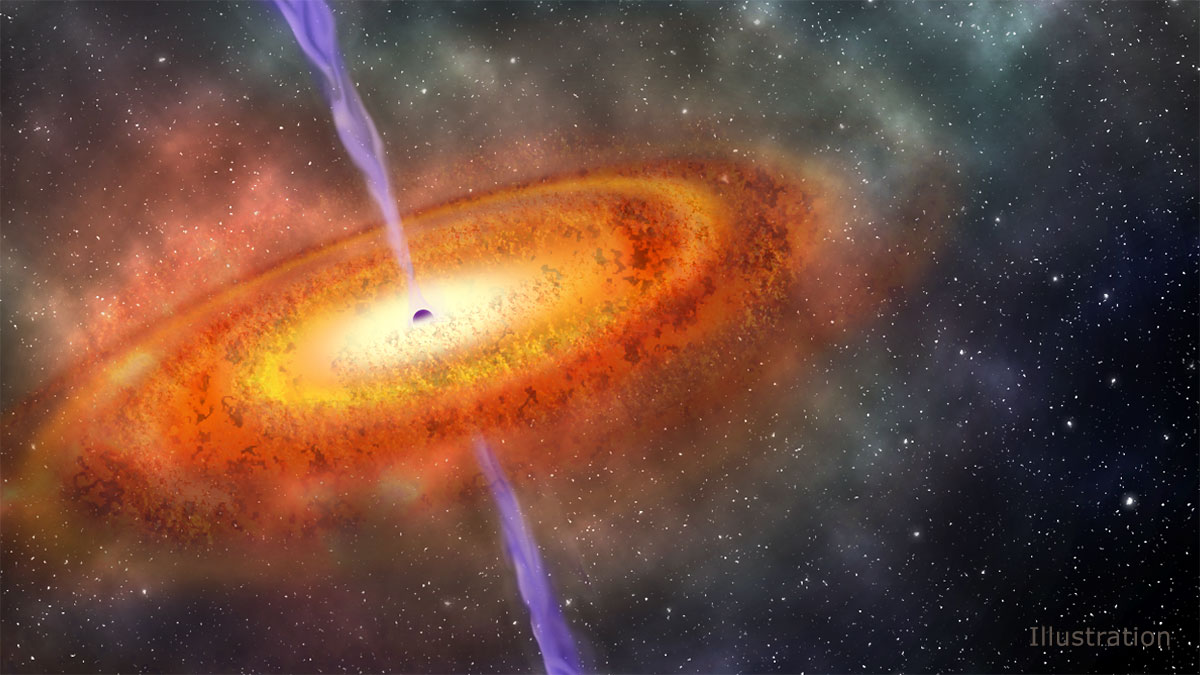 This artist's concept shows the most distant supermassive black hole ever discovered. It is part of a quasar
 from just 690 million years after the Big Bang.
 Credit: Robin Dienel/Carnegie Institution for Science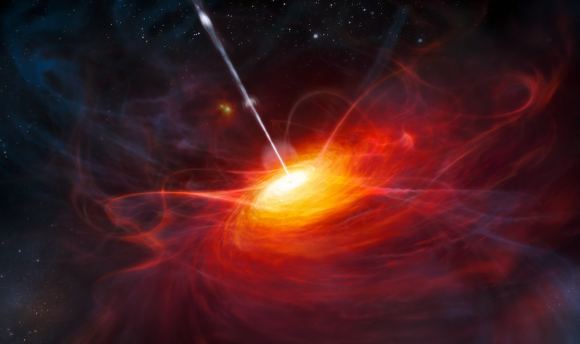 Artist's impression of ULAS J1120+0641, a very distant quasar powered by a black hole
 with a mass two billion times that of the Sun. 
 Credit: ESO/M. Kornmesser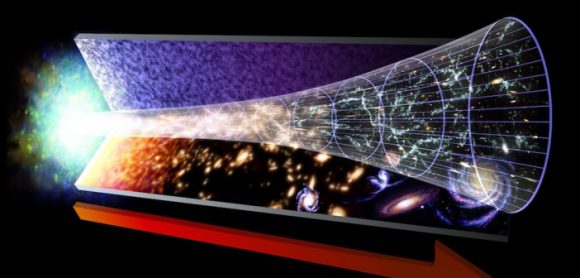 This illustration shows the evolution of the Universe, from the Big Bang on the left, to modern times on the right. 
Credit: NASA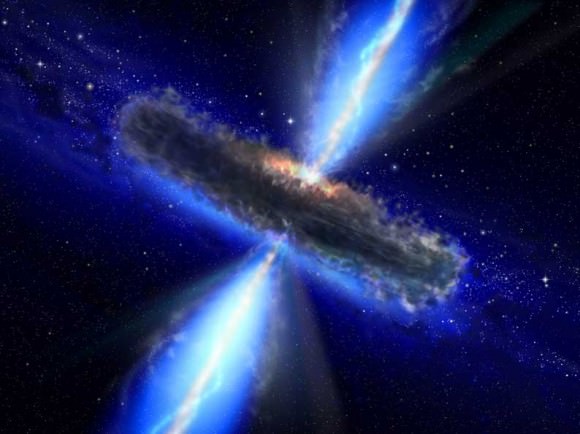 Swift's Hard X-ray Survey offers the first unbiased census of active galactic nuclei in decades.
 Dense clouds of dust and gas, illustrated here, can obscure less energetic radiation from an
 active galaxy's central black hole. High-energy X-rays, however, easily pass through. 
 Credit: ESA/NASA/AVO/Paolo Padovani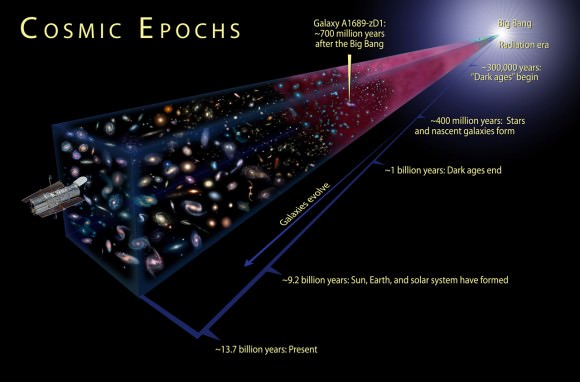 A billion years after the big bang, hydrogen atoms were mysteriously
 torn apart into a soup of ions. 
 Credit: NASA/ESA/A. Felid (STScI)).

Quasars are the Biggest Particle Accelerators in the Universe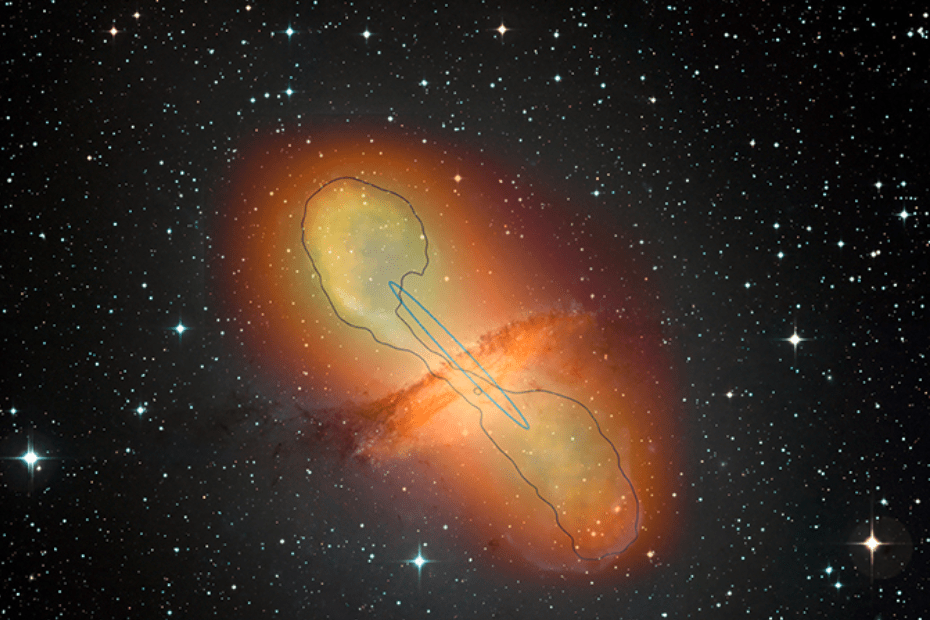 We puny humans think we can accelerate particles? Look how proud we are of the Large Hadron Collider.
 But any particle accelerator we build will pale in comparison to Quasars,
 nature's champion accelerators.
Those things are beasts.
The term quasar is a contraction—albeit a clumsy one—of "quasi-stellar radio source."
 When they were first discovered in the 1950s, it was because of their unexplained radio emissions.
 In images, they were just star-like points of light. So they were tagged as quasi-stellar radio sources.

Thanks to the LHC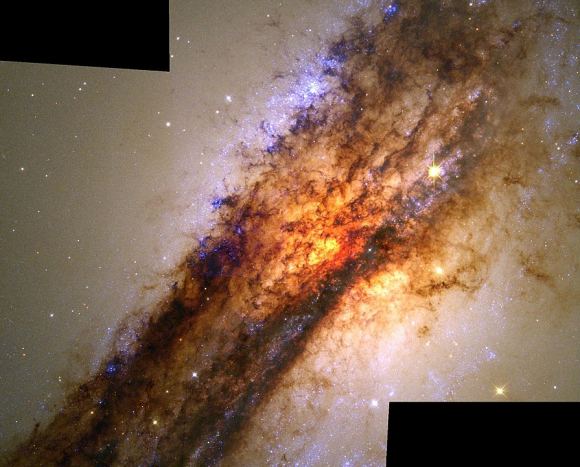 A Hubble Space Telescope image of the disk of dust obscuring Centaurus A's central region.
 Image Credit: NASA/ESA/Hubble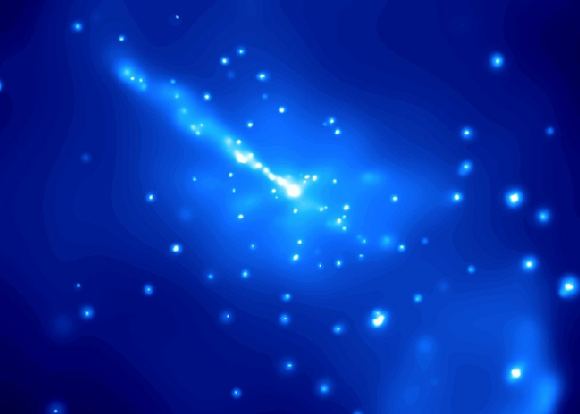 This is a Chandra X-ray Observatory image of Centaurus A. It shows a relativistic jet extending 30,000 light years 
from the central black hole. Image Credit: By R.Kraft (SAO) et al., CXO, NASA – http://apod.nasa.gov/apod/ap030705.html 
(image link)http://chandra.harvard.edu/photo/2001/0157blue/index.html (image link),
 Public Domain, https://commons.wikimedia.org/w/index.php?curid=536971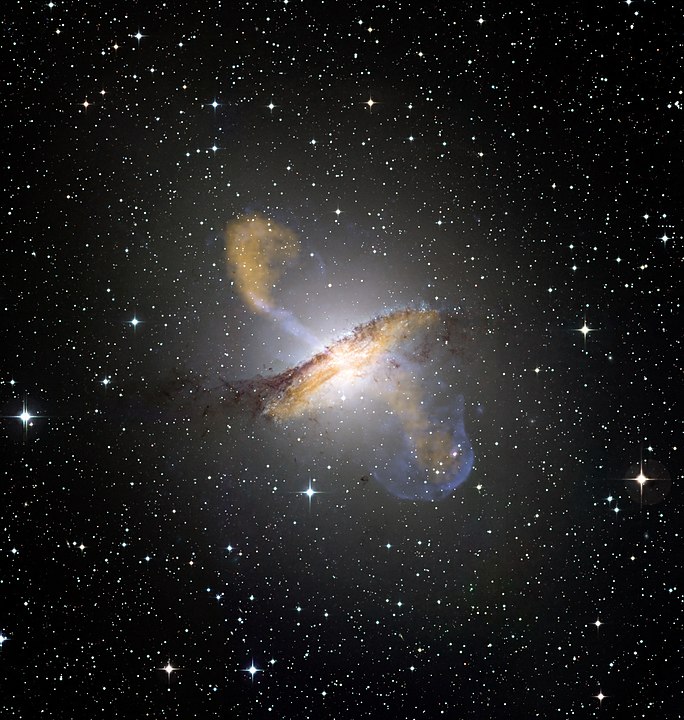 Colour composite image of Centaurus A, revealing the lobes and jets emanating from the active galaxy's central black hole.
 This is a composite of images obtained with three instruments, operating at very different wavelengths.
 The 870-micron submillimetre data, from LABOCA on APEX, are shown in orange. X-ray data from the Chandra X-ray 
 Observatory are shown in blue. Visible light data from the Wide Field Imager (WFI) on the MPG/ESO 2.2 m telescope
 located at La Silla, Chile, show the stars and the galaxy's characteristic dust lane in close to "true colour".
 By ESO/WFI (Optical); MPIfR/ESO/APEX/A.Weiss et al. (Submillimetre); NASA/CXC/CfA/R.Kraft et al. (X-ray) 
 – http://www.eso.org/public/images/eso0903a/, CC BY 4.0,
 https://commons.wikimedia.org/w/index.php?curid=5821706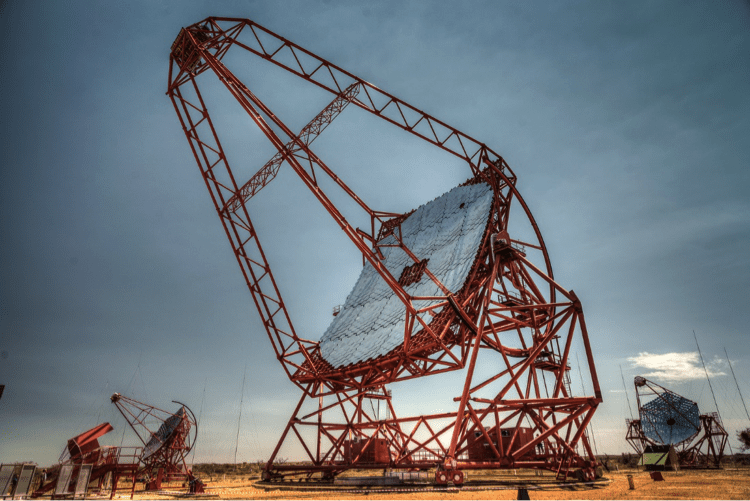 The large central telescope in the HESS array. It was responsible for the first detection a a gamma ray 
burst in very high energy gamma rays.
 Image Credit: MPIK / Christian Föhr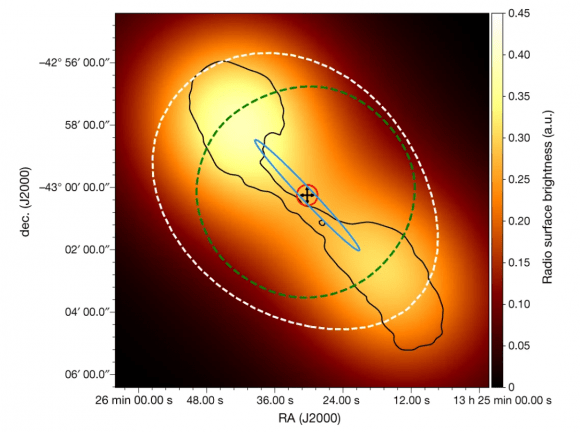 This image from the study shows Centaurus A's very high energy gamma emitting region in the white dashed line. 
Image Credit: HESS Collaboration.

---
Click here to return to top of page
---
Supermassive black holes can cloak themselves in a cocoon of dust, making them invisible even when they should be bright quasars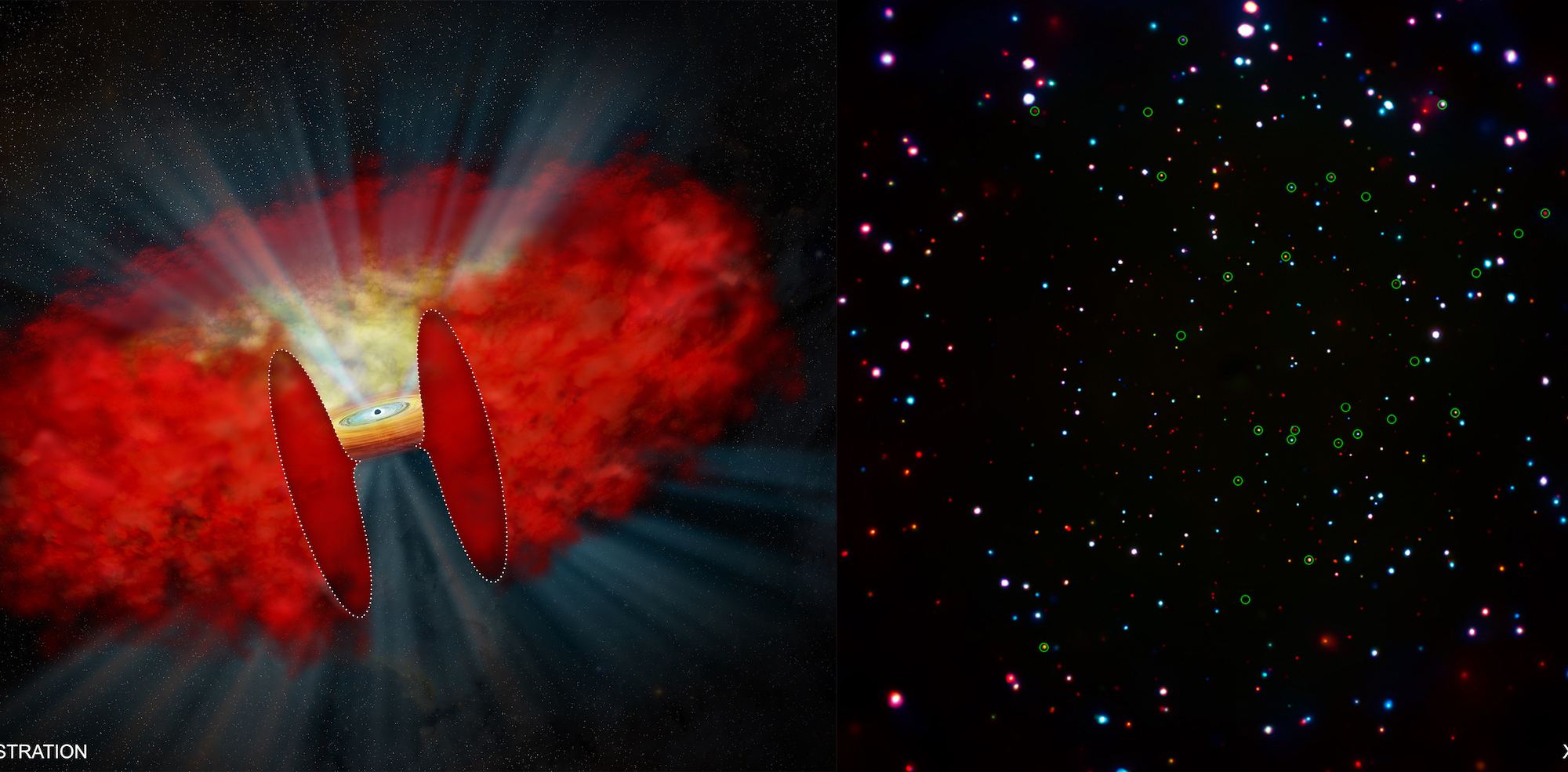 Quasars are the most powerful sources of light in the universe, but sometimes they're hard to find.
 A team of astronomers used the Chandra X-ray Space Telescope to find some diamonds in the rough.
When gas finds itself in the center of a galaxy, it must come toe-to-toe with a truly terrible monster:
 a supermassive black hole. These black holes can devour entire stars whole, and they don't mess around. 
 As material falls towards the event horizon, it crams together into a small volume.
 The friction of that trek generates heat and light. When this happens, the galaxy is known as a quasar.

---
Click here to return to top of page
---
---
Astronomers see a Rare "Double Quasar" in a Pair of Merging Galaxies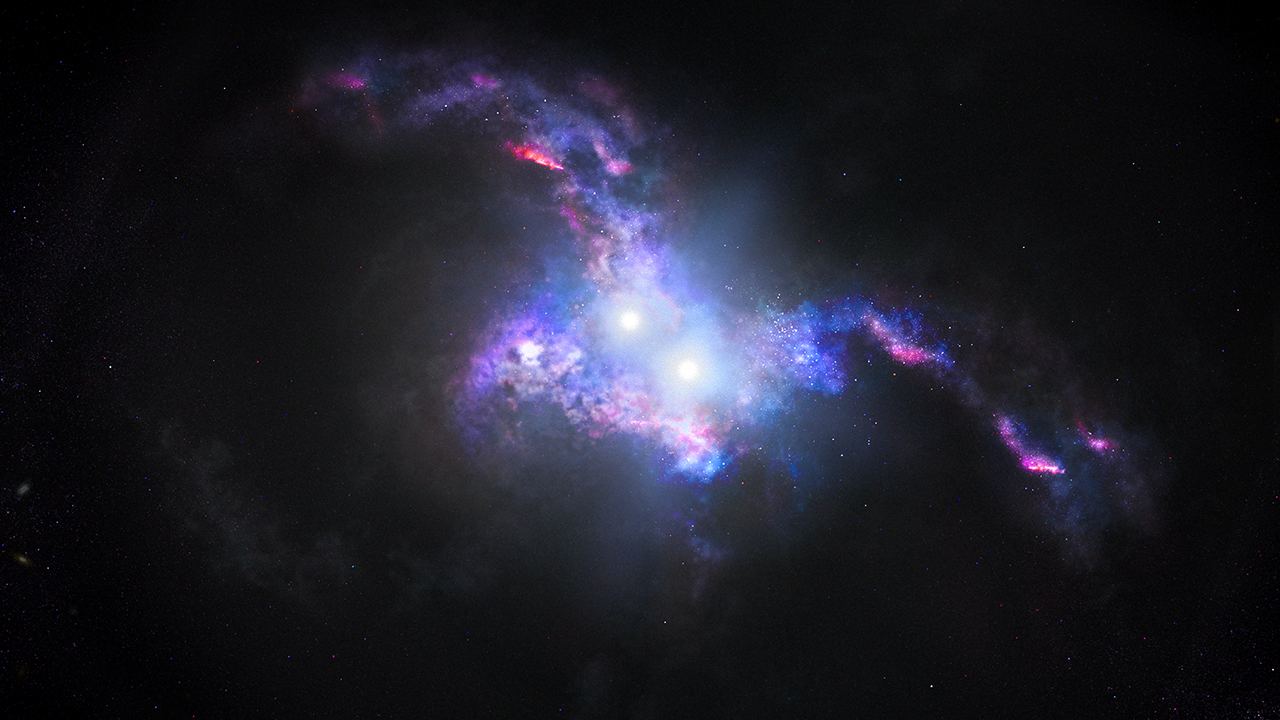 What's better than a quasar? That's right, two quasars. Astronomers have spotted for the first time 
two rare double-quasars, and the results show us the dynamic, messy consequences of galaxy formation.

Every galaxy is thought to host a supermassive black hole in its center. When galaxies merge,
 their black holes merge along with them. During the height of the merger process,
 huge volumes of gas and dust swirl down to the center of the galaxy. As all that gas
 and dust compresses down into the black hole, it heats up.

The forces are so intense that the cores of these galaxies become "quasars",
 blazing brighter than millions of normal galaxies put together and 
 beaming massive jets of radiation thousands of lightyears into space.

The Awesome Power of the Quasar - Ask a Spaceman!
<>

What powers a quasar? Just how strong is a blazar? What's the connection to giant black holes? 
 I discuss these questions and more in today's Ask a Spaceman!



Full podcast episodes:
 Support:
Follow: 
Follow: on twitter 
Follow:on Facebook
 Watch on YouTube:
 Go on an adventure:


Keep those questions about space, science, astronomy, astrophysics, physics, 
and cosmology coming to #AskASpaceman for COMPLETE KNOWLEDGE OF TIME AND SPACE!

Big thanks to my top Patreon supporters this month: Justin G., Matthew K.,
 Kevin O., Justin R., Chris C., Helge B., Tim R., Nick T., Lars H., Ray S., 
 John F., , Anilavadhanula, Mark R., and David B.!

Music by Jason Grady and Nick Bain. 

Thanks to WCBE Radio for hosting the recording session, Greg Mobius for
 producing, and Cathy Rinella for editing.

Hosted by Paul M. Sutter,  astrophysicist at The Ohio State University,
 Chief Scientist at COSI Science Center, and the one and only
 Agent to the Stars


A Galaxy With Ten Times the Mass of the Milky Way is Preparing to Become a Quasar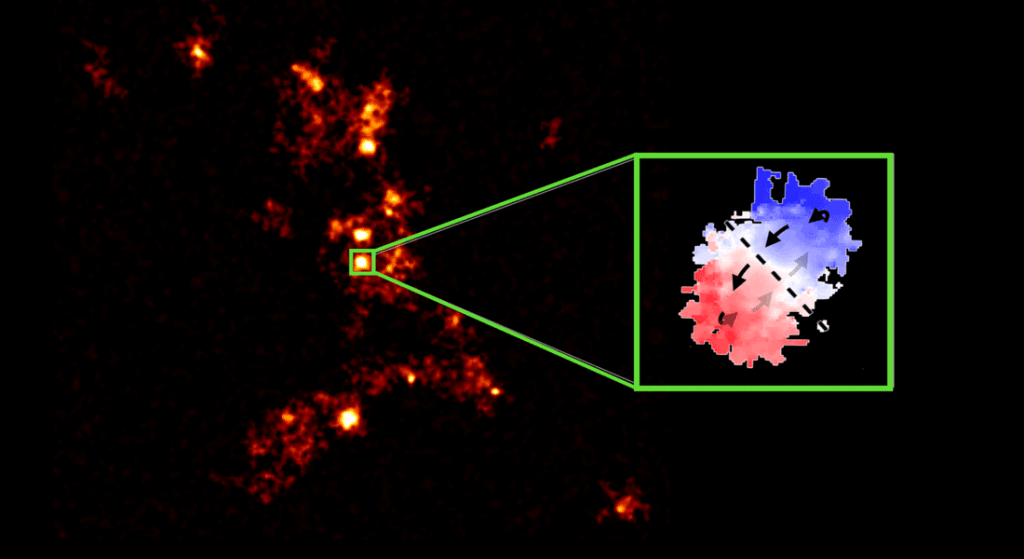 The massive, hyper-luminous galaxy W0410-0913 and its surroundings, 
seen 12 billion years back in time. 
Credit: M. Ginolfi & G. Jones / VLT / ESO.

What Is A Quasar?

In this short video explainer, Universe Today publisher Fraser Cain
 investigates the most powerful objects in the Universe: quasars.
 In just the last few decades, our understanding of quasars has
 developed in leaps and bounds. 

.

We now know what they are. And so will you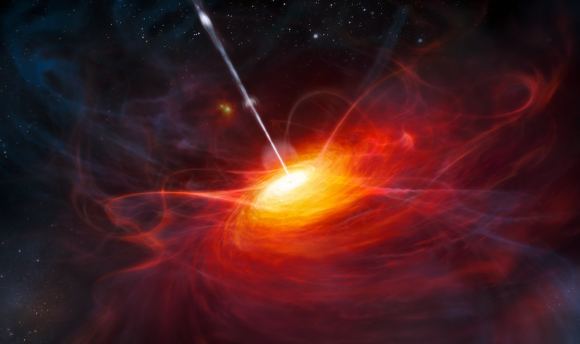 Artist's impression of a distant quasar powered by a black hole 
with a mass two billion times that of the Sun.
 Credit: ESO/M. Kornmesser



A three-dimensional stereographic view of W0410-0913 (blue sphere)
 and its galactic neighbors (red spheres).
 Credit: Peter Laursen/NBI

Webb Sees a Cluster of Galaxies Feeding a Quasar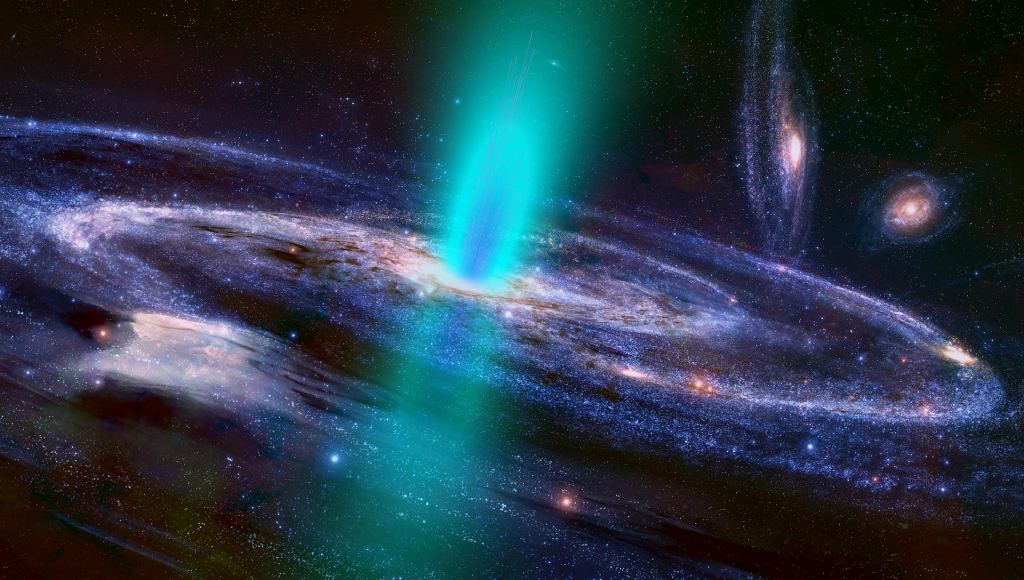 Concept image of a galactic quasar. Such objects in the early Universe offer clues to conditions
 when they existed. 
 Credit: ParallelVision, Pixabay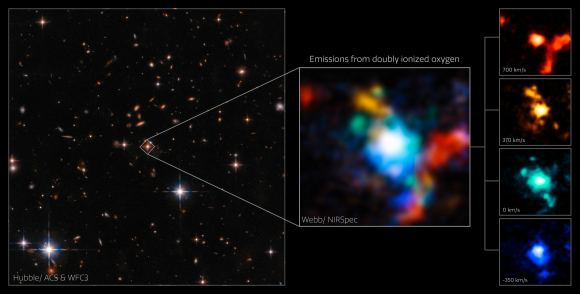 The quasar SDSS J165202.64+172852.3. On the left is a wide-field Hubble view
 of multiple galaxies in the field. In the center is a JWST NIRSpec composite 
 of four narrow-band images together, which appears as a blurry rainbow of colors.
 On the right are the four individual narrow-band images of the quasar
 in red, orange, teal, and blue.
 ESA/Webb, NASA, CSA, D. Wylezalek, A. Vayner & the Q3D Team, N. Zakamska.

---
Click here to Jump to Associated pages from universetoday
---
---
Click here to return to top of page
---
---
The Event Horizon Telescope Gazes into the Heart of a Distant Quasar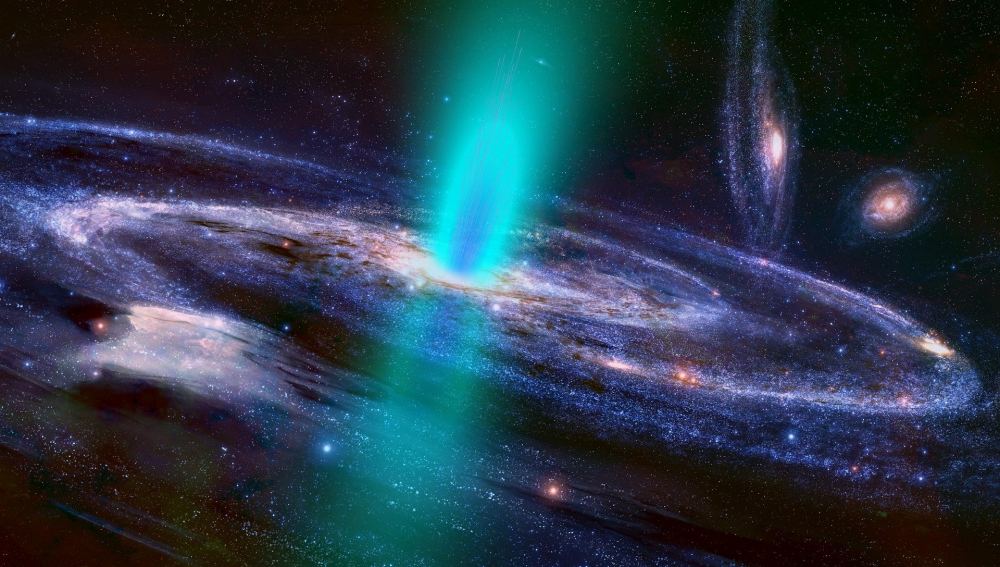 Concept image of a galactic quasar. Astronomers used the Event Horizon Telescope 
to study details at the heart of one like this called NRAO 530.
 Credit: ParallelVision, Pixabay

What is Polarization? | Event Horizon Telescope

Light is an oscillating electromagnetic wave. If the waves have a preferred direction of oscillation,
 they are polarized. In space, moving hot gas, or 'plasma', threaded by a magnetic field emits polarized light.
 The polarized light rays that manage to escape the pull of the black hole travel to a distant camera.
 The intensity of those light rays and their direction are what we observe with the Event Horizon Telescope.
Today, we reveal a breakthrough discovery: the Event Horizon Telescope has imaged polarized light
 close to the shadow of M87* for the very first time. Using this knowledge, we can map out the
 magnetic fields that surround the black hole, and connect them to the powerful jet of plasma it ejects.

The Event Horizon Telescope (EHT) is an international collaboration that captured the first image 
of a black hole by creating a virtual Earth-sized telescope. To learn more,
 you can check out our website at
 
Follow us on Twitter:
 
Follow us on Facebook: 
 
Or follow us on Instagram:
 
If you enjoyed this video, please like, comment, and subscribe!
 
Credit:
Producers: Radboud University, Goethe University Frankfurt
Director: Sara Issaoun
Writers: Sara Issaoun, Monika Moscibrodzka, Raquel Fraga Encinas, Christiaan Brinkerink, 
Hector Olivares, Freek Roelofs
Editors: Sara Issaoun, Raquel Fraga Encinas, RU EHT Group, Polarimetry Working Group,
 and Outreach Working Group
Narrator: Nicola Barber
Animation: Fiks Film
Animation Director: Nelis Claassen
Funded with support from the European Research Council, Radboud University Nijmegen,
 and Goethe University Frankfurt. Realised under the auspices of the Event Horizon Telescope.

Polarization of Light: circularly polarized, linearly polarized, unpolarized light

3D animations explaining circularly polarized, linearly polarized, and unpolarized electromagnetic waves.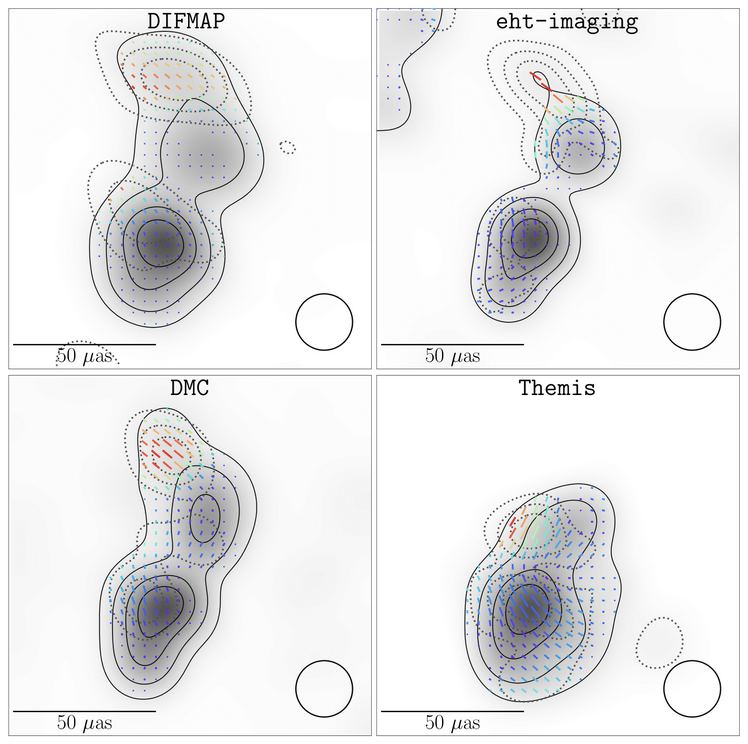 EHT's Polarized View of the Quasar Jet
Images of NRAO 530 were obtained by the EHT Collaboration using several different imaging methods
 with the quasar core located toward the bottom-left part of the image, and the jet extending upwards (north).
 The contours show the structure in total (solid black) and polarized (dotted) light;
 dashes represent the direction of the observed polarization 
 (Courtesy: EVPA).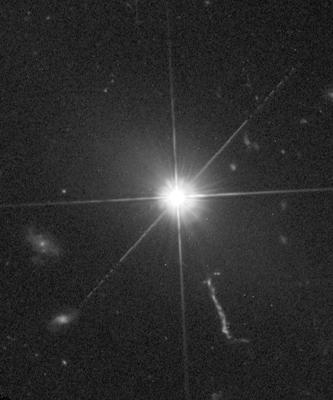 Quasar 3C 273, 2003 in an HST image.
(Credit: NASA/J.Bahcall(IAS))